24 August 2017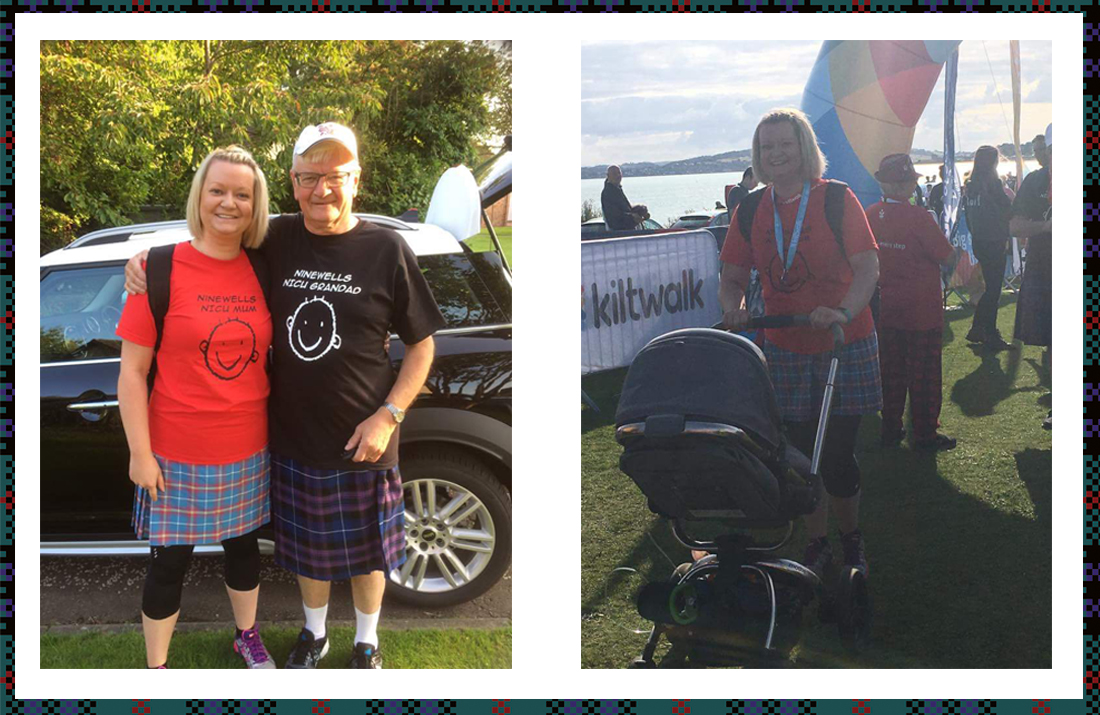 Sarah Clark and father Ken (affectionately known as Granda Ken) joined thousands of other walkers on Sunday for the 'Mighty Stride', part of the Dundee Kiltwalk, to raise funds for the Ninewells Neonatal Unit in Dundee.

Walkers set off from the world famous Old Course in St Andrews at 9am to complete the 25 mile Mighty Stride walk to Monifieth.

Thank you to Sarah for sharing her inspiring story, and many congratulations for raising over £2,000 for the Ninewells Neonatal Unit, Dundee.
"Skye was born on 7th February at 30 weeks gestation making her 10 weeks early. My waters broke at 23 weeks and we didn't expect my pregnancy to continue for another 7 weeks. Skye's lungs were very very underdeveloped and she required full support to breath which was done with a ventilator. Skye had several failed attempts at extubation; this is when they removed the breathing tube and put her on to a less invasive form of breathing machine, which keeps the lungs inflated with pressure, but she does all the work.
On two occasions Skye arrested and required emergency CPR; we nearly lost her. This is why the Ninewells Neonatal Team will always be so special to me, they saved my daughter's life. On the 8th of March at five weeks old, Skye had been on BiPAP (Bilevel Positive Airway Pressure) for ten days, but on this particular day the nurses told me that her bloods weren't good and she was really lethargic. The team thought it was best to ventilate her again to give her a rest. It was a very difficult procedure as there was a blockage and Skye arrested. The team of 23 staff fought for 2 hours to keep my daughter alive.
The ENT specialist and anaesthetist managed to get a breathing tube passed and the very next day she was blue lighted to the Royal Hospital for Children in Glasgow. It was discovered there she had Tracheomalacia (floppy windpipe) due to her prematurity. She was given time to grow and rest before trying to get her breathing on her own again which was a success.
At the Royal Hospital for Children Neonatal Unit, one of the nurses told me about a video application. Once I signed up, the team would record video updates of Skye and send them to my phone when I couldn't be in the unit.
As a mum of a baby that was in NICU 90 miles away, the videos helped to reduce my anxiety, especially when I needed to go home for the night to spend time with my eight year old daughter. It was peace of mind knowing the nurses would capture any moments that were special on video. We were the second family to have the privilege of using video updates, so that made it extra special.
Knowing how important the videos were to us, I wanted to raise funds to help bring the same video link that was available at Glasgow to Ninewells, so that parents of preemies there could see videos of their baby too. Nurses need tablets to make the videos so I hope the money dad and I raised on Sunday helps to buy iPads for the unit.
Ninewells saved Skye's life, they were amazing, so it feels good to be able to give back to the unit that helped so much. We raised over £2,000 on our
JustGiving page
thanks to generous contributions from friends and family.
We've had so much support throughout this difficult time and it has meant a lot to us. Our neonatal liaison nurse, Moira, comes out to check Skye's development every week and is in contact with us every other day. Skye has turned a corner and is finally weaning off the oxygen and we are positive about the future."