20 July 2021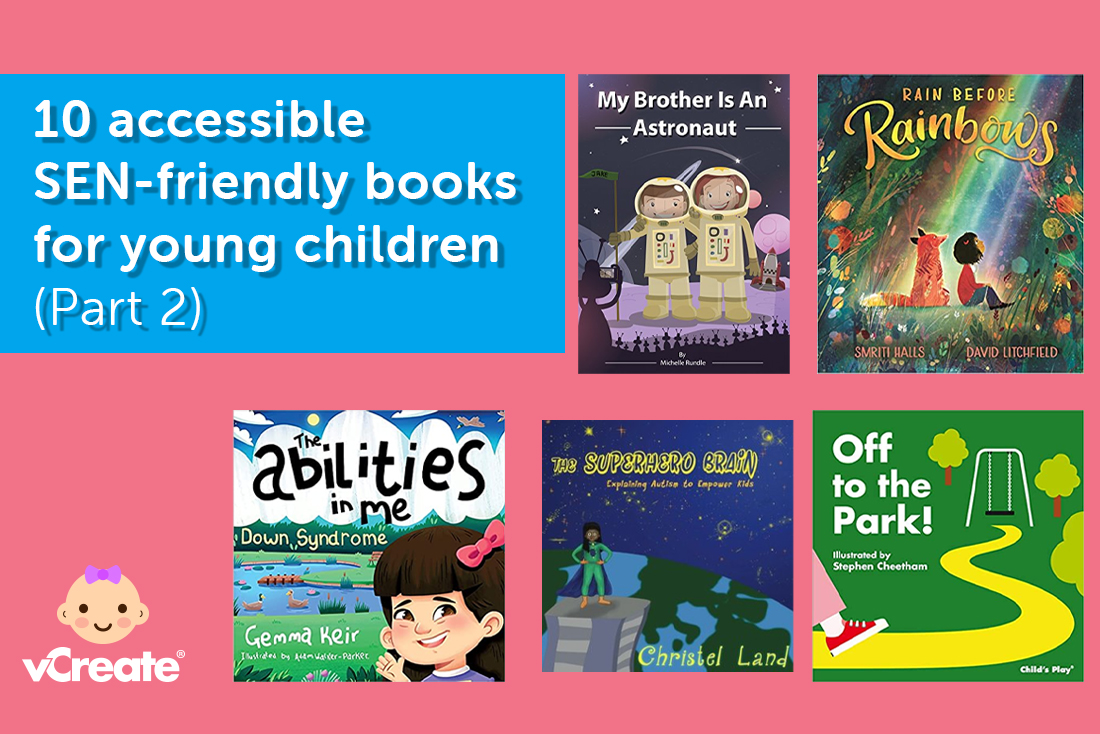 It's time for part 2 of our accessible SEN-friendly books list!
SEN
stands for Special Educational Needs so a lot of the books in this list feature characters with SENs and explore ideas around understanding and embracing what makes children unique.
If your children are too young to enjoy the moral of these stories, it's still incredibly beneficial to read to babies and little ones. Not only does it teach them about communication, it also builds listening, memory and vocabulary skills, and offers a peek into the world around them.
If you're looking for books that will help introduce children to a broad range of characters from diverse backgrounds dealing with real-life issues, we've collated this list of accessible SEN-friendly stories:
Off To The Park by Stephen Cheetham
This interactive board book offers something for children of all ages – including the big kids out there!
Designed in association with Booktrust and developed with children, families and organisations working with blind and partially sighted children, Off To The Park is a unique sensory project that seeks to include all children in the reading experience.
Containing tactile features, Braille-style numbering, play elements, high-contrast images and a rhythmic rhyming text, the reader is taken on a fun-filled journey through the park.
The Scottish Book Trust have produced a fabulous
YouTube video
that demonstrates how sharing a book such as this with a child doesn't always mean reading it cover to cover. The audio version of this book is also available through the Scottish Book Trust's
Tactile Books page
.
My Brother is an Astronaut by Michelle Rundle
Another great free e-book from disability charity Scope UK, My Brother is an Astronaut follows the story of Lucy and her little brother Jake who has sensory needs and sees the world a bit differently.
My Brother is an Astronaut is written by an Occupational Therapist to help children, families and professionals understand the impact of living with sensory needs.
The engaging illustrations guide the reader through Lucy's exploration of what her brother experiences every day, how her family support him and the amazing way he sees the world from 'Planet Jake.'
This e-book is great for children who are or who know someone that has sensory needs – offering explanations behind some behaviours and sharing how unique a perspective those with sensory needs have.
The abilities in me: Down Syndrome by Gemma Keir
Suitable for children aged 3 and up, this picture book lets readers explore the colourful day in the life of a young girl with Down syndrome.
The Abilities in Me book series helps kids understand conditions such as autism, type 1 diabetes, and ADHD amongst others. Author, Gemma Keir, wrote the first book for her son who was diagnosed with 22q Deletion and went on to write further books to help more children and families.
Perfect for teachers, parents, and children, these books not only bring awareness of these conditions, but they also teach people to be kind and supportive of others around them.
The Superhero Brain by Christel Land
Written by a mother for her autistic son, The Superhero Brain offers families an empowering explanation of the condition that highlights how different and yet amazing people's brains are.
The story refers to sensory issues as 'special powers' and explores how living with autism can be awesome and tricky at the same time.
What's particularly amazing about this book is that you can select the version featuring the main character who best represents your little one – for example whether they're a boy or a girl – so they can relate as much as possible to the character's experiences.
Christel Land has also written a book to help support siblings of children with autism called The Superhero Heart, and discusses her own story with her autistic son in an insightful
YouTube video
.
Rain Before Rainbows by Smriti Halls
A story about finding hope and happiness again after being in a dark place, Rain Before Rainbows teaches us that even during the heaviest of rain, there are rainbows just on the horizon.
We follow the tale of a girl and her companion fox as they travel from a place of loss through uncertainty and towards hope. On the journey they find friends to guide and support them, building towards a future out of the darkness into the light of the rainbow.
For any child that may be going through a difficult time, this story helps show them that there is light at the end of the tunnel.
We hope you've enjoyed this accessible SEN-friendly book blog. We've tried to share a snippet of the incredible representative books available and hope to have given you a bit of book inspiration.
If you've enjoyed any of these stories or thought this list was helpful, let us know on social media!
Keep an eye out for more blogs about books and resources to help families in the neonatal and paediatric healthcare world.