18 January 2018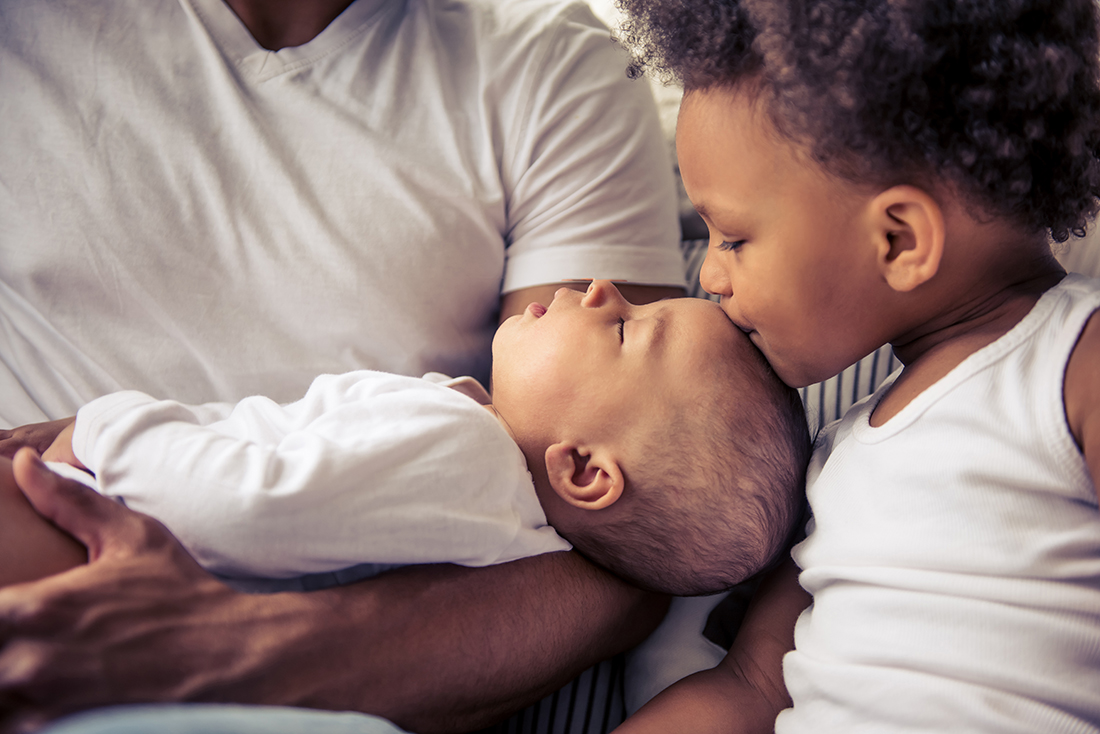 Encouraging bonds to form between preemies and their siblings requires extra thought and consideration when a baby is receiving neonatal care, because the baby is separated from her brother or sister, and certain bonding activities (such as touch) may not be possible immediately when a baby is born too soon. Having a baby born in the NICU is also a distressing time for the sibling and their needs can sometimes be forgotten in the turmoil surrounding premature birth. (Beavis, 2007) With this in mind, here are 10 activities to encourage bonding between premature babies and their siblings.
1. Create a sibling scrapbook
Celebrating the arrival of a newborn baby is part of the acceptance process; a great way of involving your older child is to buy a scrapbook where they can write messages to their baby brother or sister, record milestones and add pictures. The scrapbook will become a focal point for your child's feelings and maybe even something they can present in show and tell. The book can also be kept as a record to show how far the baby has come.
2. Give your child a homecoming calendar
Siblings of preemies may think that their baby brother or sister is never going to come home. To help with their fears, give your child their own calendar and ask them to mark off the days until the baby comes home, as shown here in this lovely illustrated book,
Evan Early
.
3. Use videos to introduce baby to their sibling
Parents who have experienced premature birth will know that many neonatal units have a policy of not admitting toddlers and this delays physical contact between siblings. One method of promoting closeness that doesn't involve physical contact is to keep a video diary and show your child their brother or sister. The advantage of using technology is that your child will be able to see the baby before he or she comes home. If your neonatal unit uses Secure Video Messaging, why not ask your nurse to create a personalised video that includes a greeting from your newborn baby to help your older child understand that the new baby loves them and is looking forward to coming home.
4. Bring a small gift for the baby
The act of exchanging gifts can really empower a child struggling to cope with having a baby in the NICU. (Bracci, 2012). Why not ask your partner to take your older child shopping and say that they can choose a present for their brother or sister to the value of X?
You may also consider choosing a gift for your older child. Watch their face light up when you tell them: "Here's something the baby left for you."
Here are some gift suggestions for sibs that we love!
Personalised zippie cuddly owl
.
Build a bear workshop stuffed animal
.
Add, a personalised voice message from the baby's brother or sister for an extra £5
.
5. Join a sibling support club or attend a sibling support day
Some NICUs focus on the needs of siblings by running sibling support clubs. In our research for this blog piece, we read about a unit in New Zealand that has a dedicated
play area
for siblings near to the neonatal unit. We also heard about
sibling support days
that have been introduced at the Maxine Dunitz Children's Health Center Neonatal Intensive Care Unit. This initiative teaches children how to care for their baby brother or sister through the use of dolls; plus, they learn how to interact with the sibling they haven't met yet.
6. Encourage your child to make things for the baby
Not being able to be close to their baby brother or sister is distressing for children, but drawing pictures to go by the baby's cotside or making something for the baby, will help your child to feel closer to their brother and sister when they are not able to be there.
Here are some of our fave craft makes:
DIY door sign for kids (stick on or near to the incubator)
Handprint rainbow painting
Heart ladybug
7. Read books that relate to siblings and the NICU process
Reading books related to the NICU experience will make it easier for you to talk with your child about why their sibling is in a neonatal unit. Make sure that they know it is nobody's fault that their baby brother or sister is in the NICU. Reading relevant books is also a method you can use to prepare them for the first visit to the NICU so that it is less daunting.
Here are a few suggestions:
My Sister is a Preemie
My Brother is a Preemie
Waiting For Baby: A Sibling Visits the NICU
8. Read up on the real-life fears of a sibling to premature twins
Children that have experienced first-hand the fears associated with being a sibling to a preemie are able to give the best insights into their world. In this blog piece by
Helping Hands
, Alexis Gordon, big sister to premature twins, Lola and Landry, reflects on what she found hardest and shares her advice for other siblings who have babies in the NICU.
9. Consider gift kits for every sibling
The NICU at Golisano Children's Hospital
has a very special way of reassuring preemie siblings. Each child is given a story, a small teddy bear, a measuring tape (to show the size of their brother or sister), a picture, a bottle, a small blanket, and some stickers to decorate a picture about her sister.
Andrea
, a mum whose daughter received the kit, said: "This was an amazing help. These items helped us talk about the things the baby needed and used."
10. Allocate time for baby-talk
Set aside an hour in the morning or in the evening for talking to your older child about your new arrival. Maybe you could talk about the milestone your baby has achieved that day; perhaps he or she has gained weight or had some equipment removed. It's probably wise to stay away from medical jargon that they won't understand. Keep in mind that this time is to help your child feel involved and like they are getting to know their sibling. Also, don't forget to have fun - you could get creative and use fruits to show your child the size of the baby as he or she progresses. This can be especially useful before the first visit to see their preemie brother or sister, to prepare them for just how small baby will be.