06 February 2017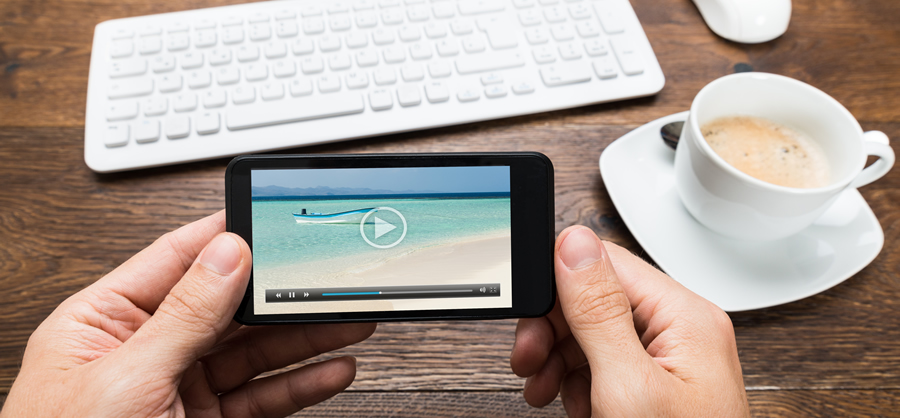 It's a common misconception that using video for marketing is the reserve of mid-to-large enterprises. Whilst that may have held five years ago, it's clearly not true today. Plenty of smart small businesses have succeeded in fuelling sales and growth by using video.
Video is, without doubt, the most engaging type of content to capture and hold attention. But to do it properly is expensive, right? Not so. In a world where YouTube vloggers frequently outrun our national broadcasters for sheer quantity of views, we have come to accept that the medium is not necessarily the message. Lower quality production values are now par for the course and, whilst a certain level of technical competence may be preferable, it's just not necessary to re-create 'Ben Hur' to make your mark.
Here are
three tips for small business owners
to maximise the medium of the moment and start using video to increase sales, enhance customer satisfaction and fuel growth.
Embed a video on your website landing page
Most small businesses now have a website. No matter how simple of complex that site might be, a video on its landing page will dramatically improve conversion rates (according to HubSpot, by up to 80%). What's more, it needn't be difficult to do. Even a decent 'selfie' video recorded on a smart phone could do the trick. There are plenty of YouTube videos advising you on the best way to achieve a great result. Then simply upload to YouTube, apply the embed code and get the order pad ready.
Email your video to prospects
Use a personalised video tool like
vCreate
(with a 14-day free trial) to not only create video content, but to email it to prospects and existing customers. You can then see who has watched your video right through to the end, and get in touch, safe in the knowledge that they have already seen your elevator pitch or offer. The video could either be a presentation to camera, a product demo or even a short video created using PowerPoint graphics. It's a fantastic way to get your message through and can also be seen on any mobile device.
Set up a YouTube Channel
Whilst YouTube channels can sometimes seem less than business-like, it is nonetheless a great place to put service enhancing 'help' videos which can increase customer satisfaction and reduce the time your business needs to invest post-sale. Although many small businesses are driven by the acquisition of new customers, retention is key and repeat business can form the foundation stone of future success. YouTube is full of great examples of businesses sharing useful operating, installation and repair tips for a wide range of products and services. Why not give it a go?
It's notable that those small businesses that use video successfully appear to use it across their whole sales and marketing mix. That must mean it works. Each of the three ideas above are not mutually exclusive and could, in fact, all be ways of using the same video. Video making can be fun and it's easy to get started ad give it a go. So what's stopping you?