27 March 2023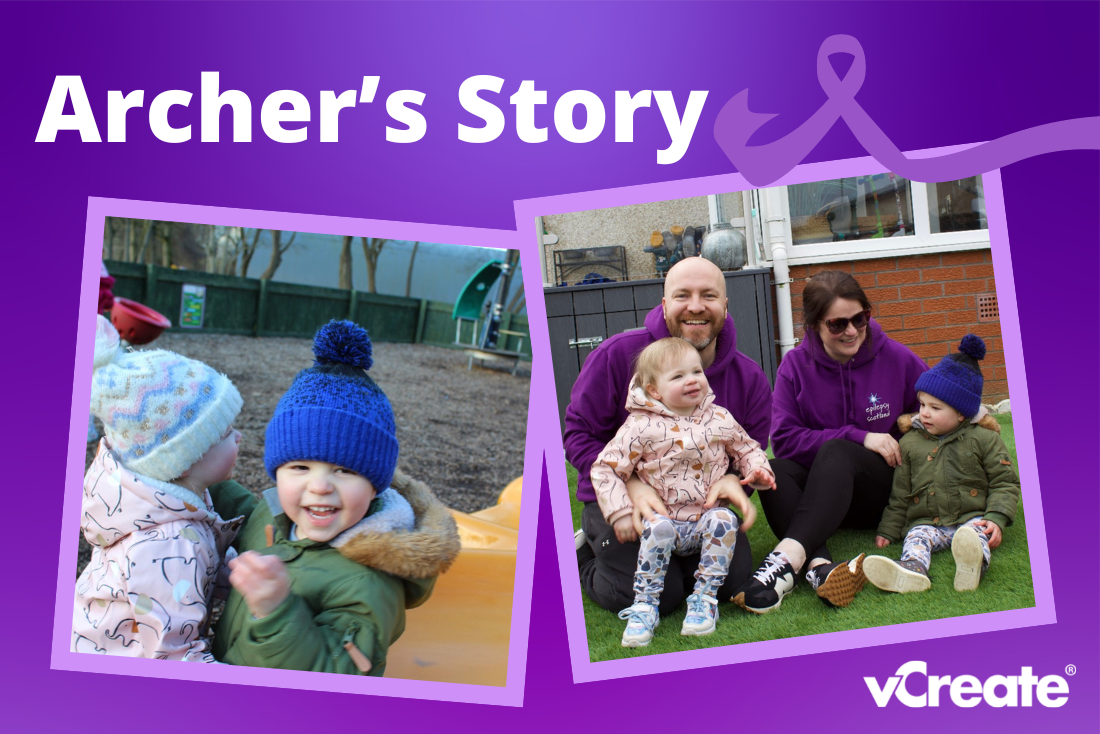 When we saw Archer's family on BBC Breakfast, it was April 2021 and Archer had recently been diagnosed with a form of epilepsy.
Concerned by Archer's unexplained movements, the family had been struggling for months to achieve a diagnosis. On one of their A&E visits, Archer's parents were introduced to the vCreate Neuro trial where they were able to securely share videos of the suspected seizures with their clinical team.
Once uploaded, the videos were reviewed by Professor Zuberi in Glasgow's Royal Hospital for Children, and Archer was rapidly diagnosed and started on treatment.
2 years on, Archer's Mum, Amanda, shares their experiences managing Archer's epilepsy since his diagnosis.
"While a diagnosis can sometimes feel like the end of a journey, it is only really the beginning.

In October 2021, Archer's seizures returned, sporadically at first before ramping up in frequency. The seizures were constant. Meds were increased. New meds were introduced, but there was no respite to be found. He had also started to present with weakness on his right side.

We used the vCreate service again at this time to share new movements with the clinical team, and it was so comforting to receive a response quickly rather than waiting for an appointment. Throughout Archer's journey, having a secure line of communication with the team was deeply reassuring.

After rigorous tests, Archer was diagnosed with refractory epilepsy caused by extensive focal cortical dysplasia on the left hemisphere of the brain. He was also diagnosed with a right hemiplegia at this point.

We were told that the only option was highly invasive surgery, a left hemispherectomy, where the left side of the brain is disconnected completely.

We were counselled by the Neurological Surgical team at Edinburgh Hospital for Children and Young People alongside our own Neurological team at Glasgow led by Professor Zuberi and came to the decision that surgery was the best option, especially as Archer's seizures posed not only a major threat to his development but also to his life.

His surgery was completed in September 2022. He had 6 seizures in the days following the surgery but I'm happy to say that he hasn't had one since.

While we're happy that the seizures have stopped, the surgery wasn't plain sailing. Archer was in hospital for 2 months post-surgery, receiving intense physiotherapy and occupational therapy daily. He now receives this weekly at home.

Surgery has also left Archer with a right hemianopia, which we knew would happen unfortunately. This means he has lost 50% vision on the right side of both eyes and is now registered as visually impaired. He needs a lot of mobility support from us too with walking, climbing and stairs.

Despite these challenges Archer is the happiest he has ever been and is developing astonishingly well considering what he has been through. He is walking, running, talking and a keen football player!

While epilepsy has robbed us of so much, we have learned to live with it. We were a 24/7 surveillance unit for a long time, constantly on seizure watch. It has been extremely difficult for us as a family, including for Archer's twin sister who has been separated from us several times as we've been in hospital with Archer.

This Purple Day, I'd like to raise awareness of the challenging pathway that many parents face to achieve an epilepsy diagnosis for their child.

Archer's diagnosis was quick compared to a lot of other people's. In total, with the assistance of vCreate, it took 4 weeks from seizures starting to diagnosis.

I'd like to see more education for medics around the symptoms of epilepsy in babies. We saw so many Doctors and Nurses who dismissed his unusual movements as colic. I would also like to see easier ways to obtain an EEG for babies and toddlers – it's such a difficult and distressing test for them and incredibly difficult to keep the nodes on to obtain an accurate reading."
Link to helpful resources/organisations:
•
Epilepsy Foundation - Tools and Resources
•
Epilepsy Action - Support For You
•
Epilepsy Research UK