04 December 2020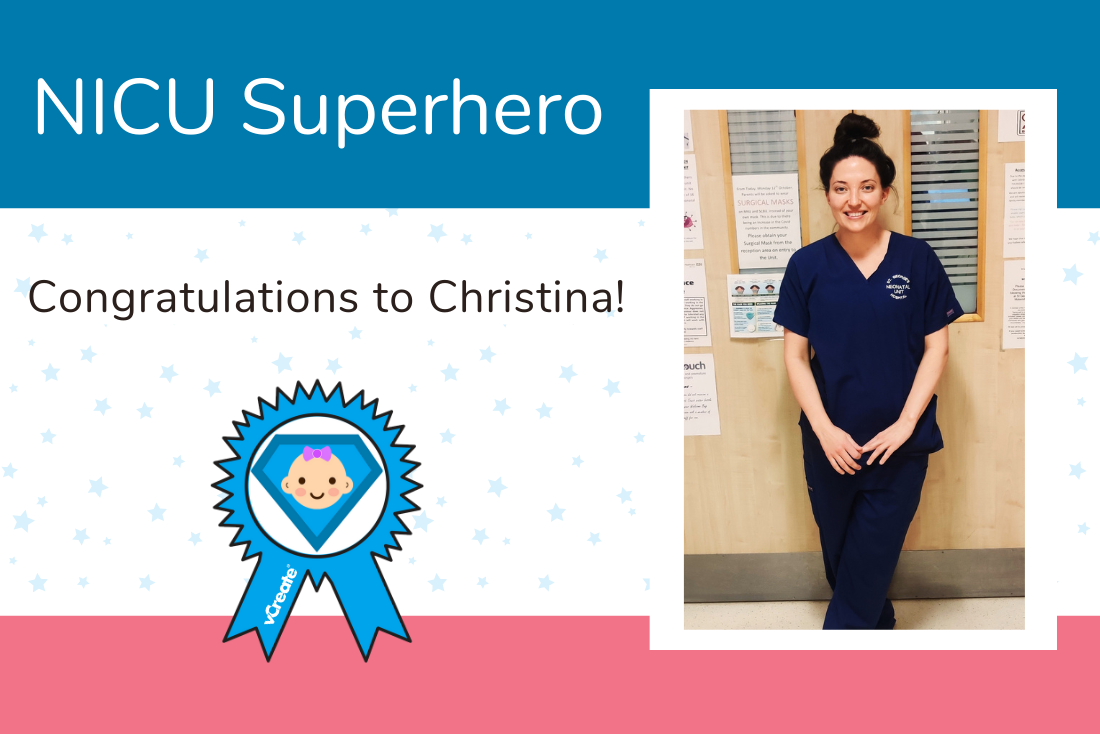 "Christina went above and beyond in every aspect of our daughter's care." This is one of the many reasons why Olivia wanted to nominate Christina for our NICU Superhero award!
Olivia's daughter, Geneviève, was born at 26 weeks and 4 days gestation. She was blue-lighted from the level 1 hospital to St George's level 3 unit where Christina and the other amazing nurses cared for her. Olivia wanted to say an extra special thank you to Christina as she feels the care and attention she gave to her daughter was especially outstanding.
"Having a baby born prematurely is very challenging but knowing that Christina was looking after our baby made such a difference. As a result of Christina being one of the main nurses looking after Geneviève, I was able to go home and sleep knowing that Geneviève was not only receiving the best nursing care but that Christina would love her in our absence.
Aside from her absolute professionalism, she is also very human. She places the equal need for a 'good chat' in order to support parents, with the need for a good aspirate from the NG tube! For me, this is what made the difference between a good day and an amazing day. I do not have any family in England so having somebody to chat to on the ward was pivotal for me.
At first my husband found caring for Geneviève challenging; Christina spent her time helping him to increase his confidence. Even when we were receiving heartbreaking news, Christina was always full of positivity about how far we had come. When speaking to other families on the unit, Christina's name is always mentioned.
Being a parent of a baby in the NICU was one of the most challenging experiences of my life but because of Christina, I can say that I have some positive memories from an unbelievably difficult time. She does not realise how good she is."
Congratulations Christina! What a superhero you are. Your support makes the world of difference to families.
Olivia also shared an update on Geneviève's current condition: "Geneviève is now doing extremely well but she is soon to have heart surgery to close an open valve. Geneviève also has a chronic lung disease so this, in addition to her heart issues, means that she can become breathless after a fun-filled day! She has grades 2 and 4 brain bleeds and she has had meningitis so she has to work hard to make sure her brain is kept active. All in all, despite all her issues, she is doing extremely well."
Thank you for your nomination, Olivia. Geneviève you are a true little warrior!
Would you like to nominate your NICU Superhero?
Our new nomination process means that we will be accepting a small number of nominations on a regular basis. Please visit our
Facebook
page as we will post updates about when we are next accepting nominations.