12 April 2019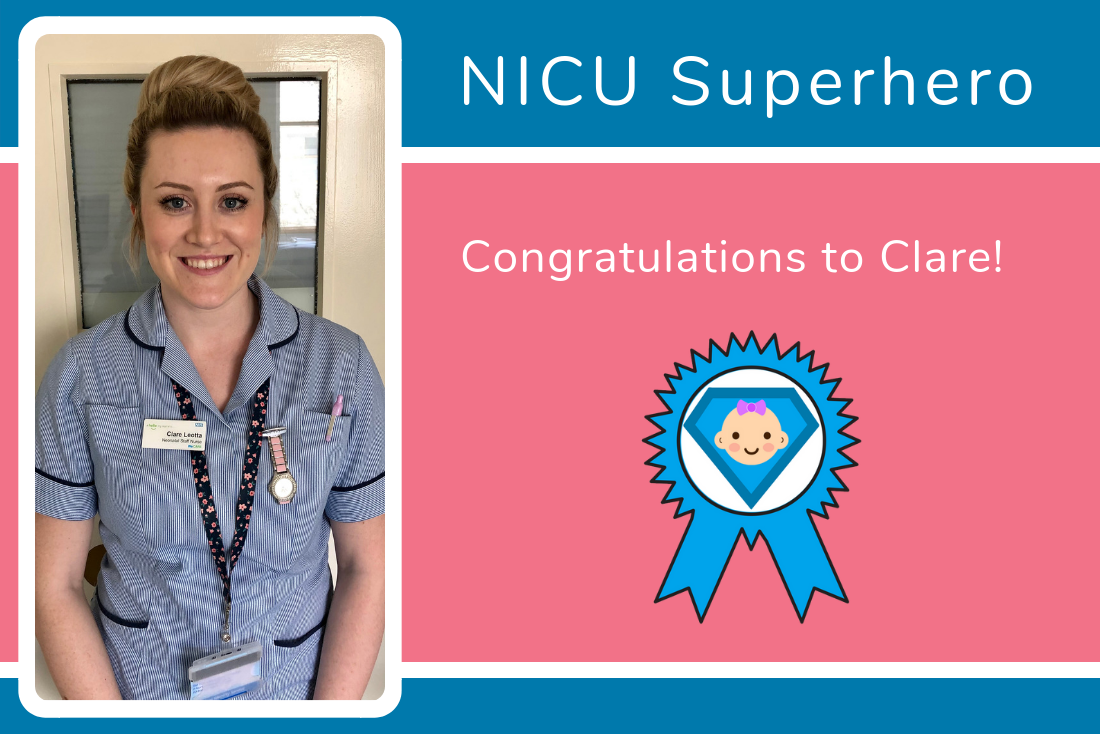 Baby Emma was born last month and received specialist care in the neonatal unit at Milton Keynes University Hospital, it was here that Emma's parents Sue and Ben, met neonatal nurse Clare Leotta.
Following the care the family received during Emma's time on the unit, Sue and Ben have chosen to nominate Clare for our NICU Superhero award, an award which recognises excellence in neonatal care, thanks to feedback shared by families following their NICU experience. Here, Sue tells us why they have chosen to nominate Clare for our award:
"Emma is our third child and after a straightforward pregnancy and planned caesarean section, things went a bit wrong very quickly. The c-section ended up being a semi emergency as her heart rate dropped and she wasn't breathing when she was born. She was put on oxygen and taken straight to the neonatal unit without me seeing her. Emma stayed in the NNU for 36 hours - nothing like as long as many of the tiny babies who they care for so amazingly, but we will never forget the amazing care she had in these crucial first days of her life.

Clare was on the day shift for the days we were there and she was fantastic. Firstly supporting Ben who spent the day down there whilst I was unable to leave the main ward, and then leading Emma's care as they reduced her oxygen and got her ready to leave. It's difficult to articulate what made this care so special, but the consistency of having Clare there, her knowledge, and her fantastic bedside manner with us meant it was a lot less scary not having our baby with us and trusting her care to other people. And when I needed help getting to the NNU to feed Emma, she even came to get me with a wheelchair when there was no answer on the ward - just amazing!

So thank you Clare, we think you're amazing and are so lucky the NHS has people like you caring for our sick babies."
Congratulations to Clare and thank you to Sue and Ben for getting in touch to share their story and their nomination.
Would you like to give a special shout out to your NICU Superhero? Drop us an
email
, or send us a direct message via our
Facebook
or
Twitter
pages. All those nominated will receive a special
NICU Superhero rosette
and certificate!