06 September 2017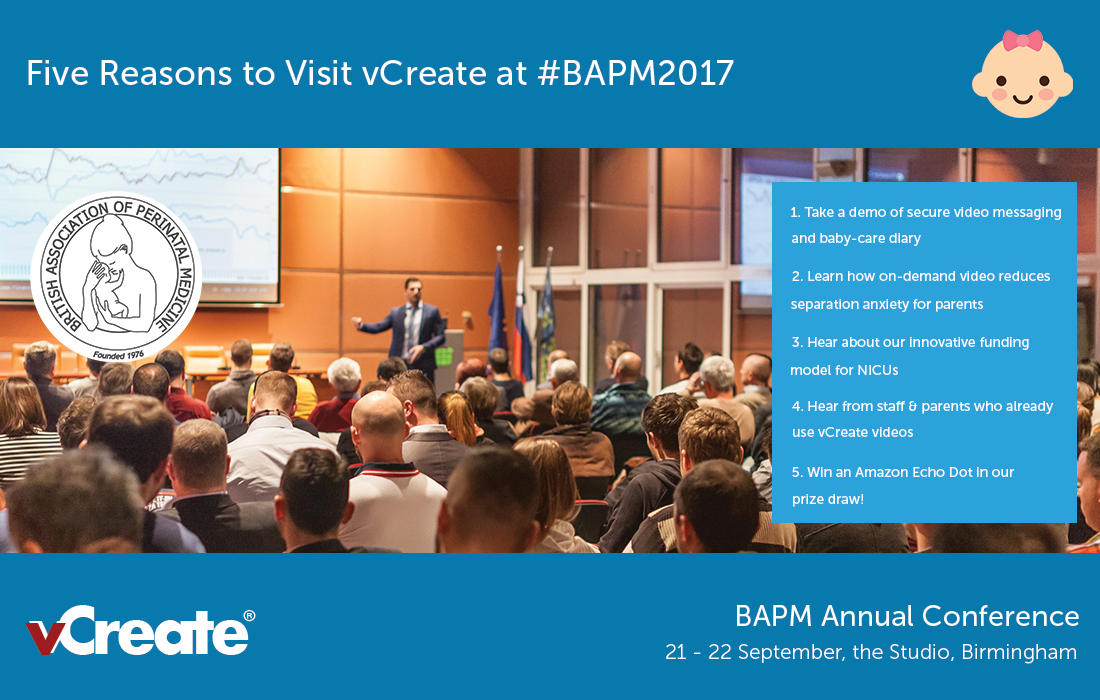 With the BAPM Annual Conference just around the corner (15 days to be exact), here's a run-down of what's in store at the vCreate stand, and why you should add us to your 'visit list' for the 21st and 22nd September.
1. Take a demo of secure video messaging and baby-care diary
During the two-day conference, our video experts will be on hand to show you how easy it is for nurses to record and send reassuring video updates to parents whose baby is being cared for in the neonatal unit. Plus, how you can ensure that special moments in a baby's care journey are available for parents to access at any time and keep forever.
Secure video messaging on-stand demonstration times *

- Day One: Thursday 21st September - 1pm and 3pm

- Day Two: Friday 22nd September - 10.30am, 12.30 and 1.30pm

Book now to secure your free place at the demo of your choice.
* Times subject to change and are at the discretion of the show organisers

2. Learn how on-demand video reduces separation anxiety for parents
Research published by
Kerr et al.
, a team of researchers from Glasgow Caledonian University in July 2017, found that most parents that had access to video technology found it beneficial for reducing separation anxiety. Parents and nurses that used the live webcam system that was evaluated as part of the research, said that whilst they appreciated being able to see videos of their baby when they were in hospital, when they went home (often before their baby), their anxiety continued; however, there was no provision for them to receive video updates from their own home, and parents felt that this was important for bonding with their baby and for their own wellbeing.
At BAPM, vCreate will be showing visitors how on-demand video provides a solution to the separation anxiety and disconnect parents feel when they are at home and their baby is still in the neonatal unit.
3. Hear about our innovative funding model exclusive to NICUs
Through our innovative funding model, you can access the secure video messaging application at no cost to your unit or to parents. vCreate provides initial setup and training for free and asks for a donation for the continued running of the service. Some units already using vCreate have secured funding from their associated charity, and this approach seems to work well. Alternatively, you may have a corporate or private benefactor who could sponsor the provision of vCreate for your neonatal unit.
4. Hear from staff and parents who already use vCreate videos
On stand you'll hear from nurses and doctors already using vCreate, and how it has helped them improve communication and enhance family integrated care. In addition, hear from parents who have experienced premature birth and how videos helped to reduce their anxiety and support their wellbeing.
5. Win an Amazon Echo Dot in our Prize Draw
Hand over your business card, or fill in an entry card at our stand for your chance to win an Amazon Echo Dot. Plus, double your chances of winning by liking and following
on Facebook
, or by following
@vCreateNeonatal
on Twitter.