09 October 2020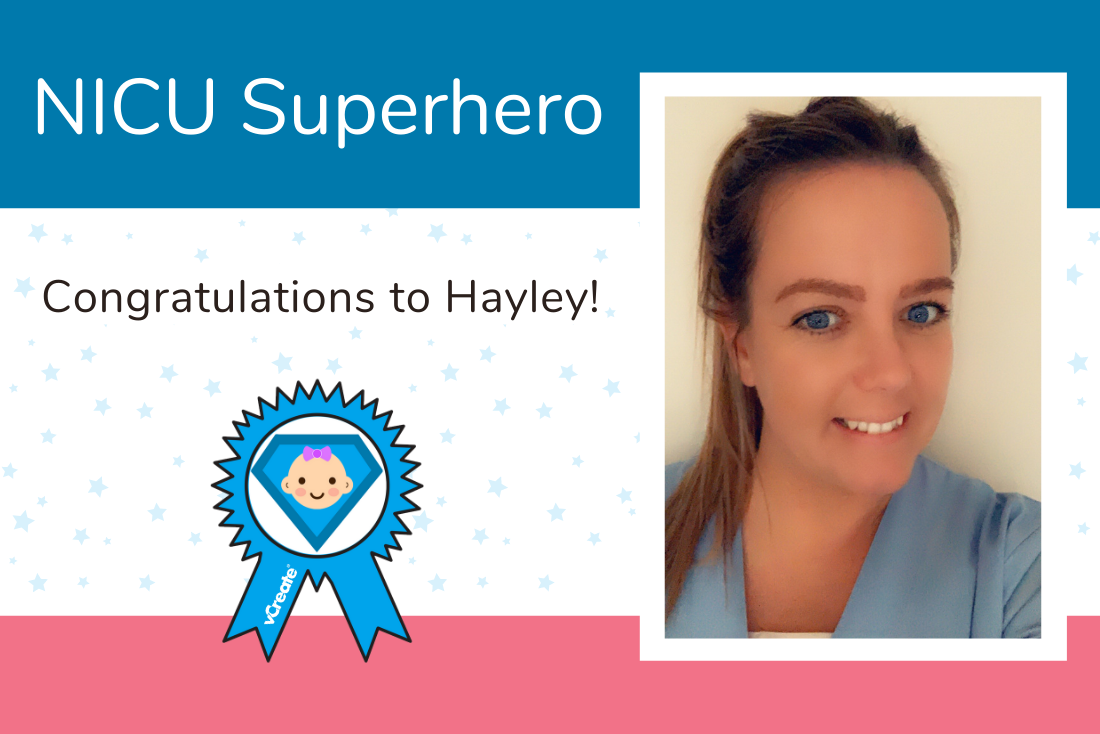 It's time to share another parent nomination for our NICU Superhero Award. Today's nomination comes from Oscar's mum and dad, Carly and Mark Dunn. Oscar was born prematurely at 26 weeks gestation and cared for by the fabulous NICU team at James Cook University Hospital. Mark told us that the couple would have nominated the whole team if they could, but as they can't (sorry!) they have chosen Hayley Parkinson and here's why:
"My wife, Carly, was rushed into Sunderland Royal Hospital when Oscar was at 24 weeks gestation and told she had severe preeclampsia and we would need to have Oscar soon for the safety of mother and baby. After being in hospital for 2 weeks the doctors couldn't control Carly's blood pressure and there were no spaces in Sunderland. The decision was made to blue light Carly down to James Cook on 8th June 2020.

Within 2 hours Carly had delivered Oscar via cesarean section and Oscar was immediately taken into NICU at James Cook, weighing 1lb 11oz at 26 weeks gestation. Oscar spent 10 weeks at James Cook where we experienced a lot of ups and downs. At 4 weeks old we were given a room in the hospital to be close to Oscar as his lungs were damaged, within that week the incredible doctors and nurses saved Oscar's life.

During that week we bonded with the whole team and in particular, Hayley. Hayley came and spoke to us even if she wasn't looking after Oscar. Her positivity and personality really helped us get through a bad time, she was always laughing and smiling and keeping our spirits up.

After 10 weeks Oscar was eventually moved back to Sunderland Royal to continue his treatment which we were devastated about as we loved the team at James Cook. He was discharged from Sunderland on 2nd October 2020 on Oxygen weighing 9lb 5oz.

We live 32 miles away from the hospital and could only see Oscar 2 hours a day and Hayley always sent us fantastic vCreate photos. They used to be something we would look forward to, even if it was just for a giggle. Through a dark time in our lives Hayley was a shining light. She could bring out Oscar's personality in the photos we received so we could see him when we weren't with him."
Congratulations to Hayley, you and your colleagues certainly helped make this difficult time a little easier for the family. Thank you to Mark and Carly for sharing your story and
photos
of Oscar's NICU journey and at home where he belongs.
Would you like to nominate your NICU Superhero?
Our new nomination process means that we will be accepting a small number of nominations on a regular basis. Please visit our
Facebook
page as we will post updates about when we are next accepting nominations.