28 September 2022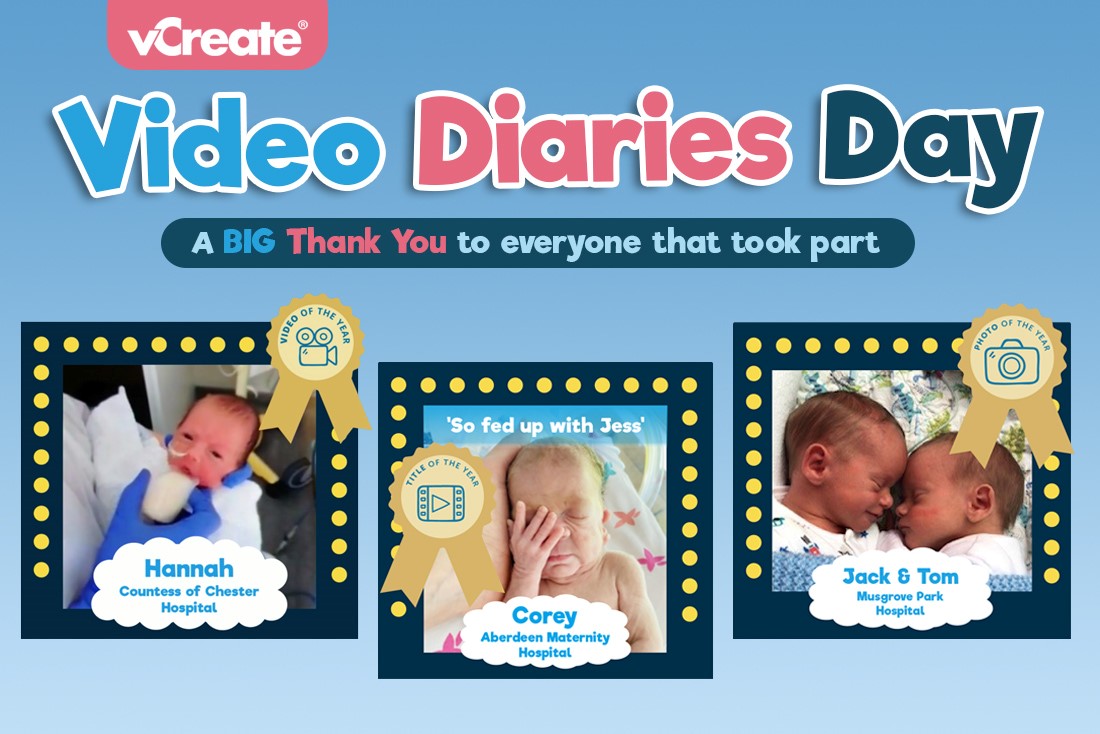 Video Diaries Day is here and we are thrilled to announce the winners of our vCreate Diaries Awards!📽️
Our awards are a chance to celebrate the wonderful photo and video updates families receive as well as the fantastic teams behind the camera.
We want to say a huge thank you to everyone that sent in their entries for our awards. We were inundated with so many moving photos and videos.
Now, it's time to announce our randomly selected winners...
⭐
Photo of the year:
Jack and Tom
This gorgeous photo of Jack and Tom was sent by the team at Musgrove Park Hospital.

"Jack and Tom spent 12 days in the neonatal unit at Musgrove Park Hospital. This is my favourite vCreate photo of that time. It's even been put into a frame because we love it so much! The staff at Musgrove were wonderful and we would love them to be recognised for all they do."
⭐
Video of the year:
Hannah
This sweet video of Hannah was taken by the team at Countess of Chester Hospital.
"Hannah spent about 3 weeks in the neonatal unit. I was getting up during the night to express milk and it was so comforting to sit and scroll through her vCreate updates. I will be forever grateful to a truly wonderful team."
⭐
Title of the year:
Corey
This adorable photo of Corey was taken and captioned by the team at Aberdeen Maternity Hospital.
"Aberdeen Maternity Hospital have been amazing during my son's neonatal stay. Jess (who's mentioned in the caption!) was an incredible nurse!"
Congratulations to all our winners! Parents and teams will be receiving their prizes in the post soon. 🏆