24 March 2018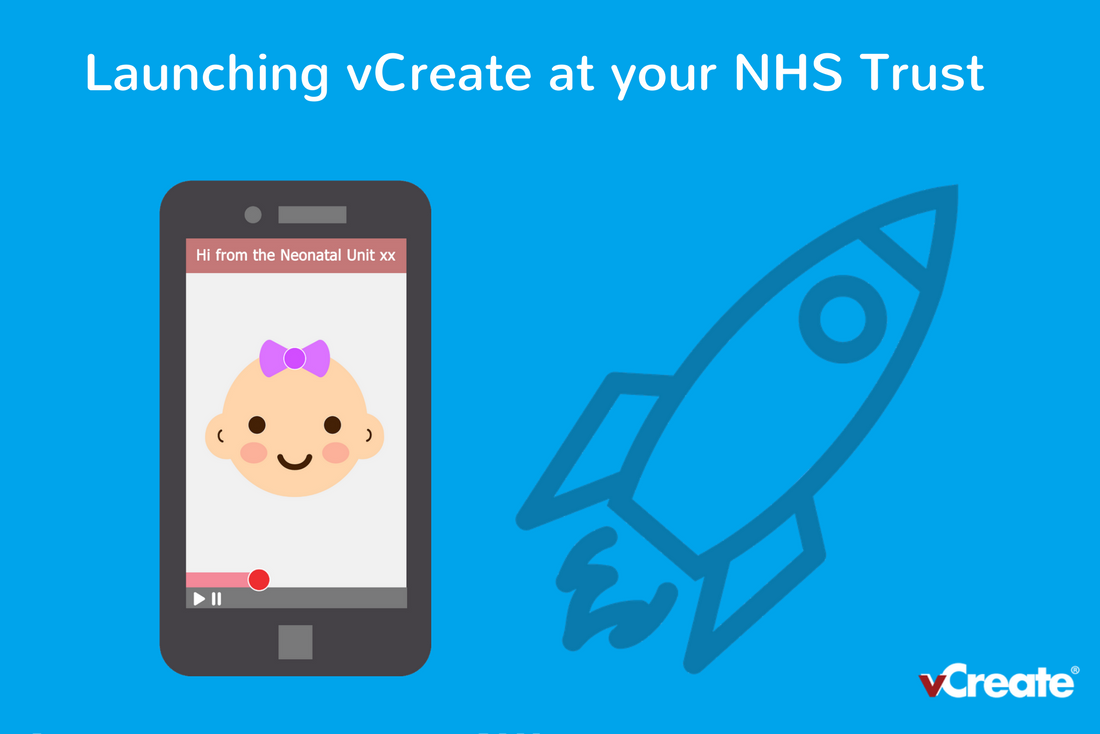 This guide provides practical guidance on how to launch the vCreate system from a PR and Communications perspective. The tips you'll find below come from our experience of previous launches and what units have found most effective in terms of engaging media to run a story. Plus, we'll take a look at the importance of social media for a successful launch.
1. Early engagement with vCreate's Marketing Team
When a new unit signs up to vCreate, we'll ask the project-lead for vCreate at the neonatal unit to connect us with the Trust's Communications Team, and we'll be in touch to arrange an introductory call, where we'll provide an overview of the application, and start developing a communications plan for your Trust's launch of vCreate.
2. Make a communications plan
On, or shortly after our initial call, we'll work with you to produce a communications plan that will include relevant PR activities, actions and timescales. We'll also identify local and/or national media contacts that we think are likely to pick up the vCreate story, to ensure maximum visibility for the unit and your sponsoring organisation.
3. Decide on a launch date
The earlier you confirm a date for the launch of your service at the hospital, the better, because the unit can start promoting vCreate to parents in the unit, and you can include the launch date in press releases to media. You may also want to make use of vCreate marketing collateral, such as pull-up banner artwork that could be used as the backdrop for team photos on launch day.
4. Get quotes and arrange interviews
The number 1 hook for selling your story to journalists are parent stories and quotes and interviews with medical staff using vCreate in the unit. Put the feelers out early for the vCreate project lead to identify nursing staff that are comfortable being on camera. The vCreate project lead will also help you to identify parents who are happy to speak about how they think the vCreate service will benefit them, as well as sharing their story.
5. Time to socialise
We love social media here at vCreate; it's an incredible way of launching the service virally. Units that have included social activity as part of their communications plan have seen awareness of the service skyrocket. Here are some suggested social posts for the vCreate launch.
"Today we're thrilled to launch the vCreate Neonatal Video System on the Neonatal Unit at xx Hospital. Parents of premature or poorly babies will benefit from reassuring video updates of their child."

"Thank you to <> for providing funding for the vCreate application. Now parents of babies in the Neonatal Unit will be able to receive video updates of their baby's progress even when they are not in the hospital."
6. Give credit where credit is due
Some neonatal units are funded by their hospital's associated charity in exchange for PR and branding opportunities; to ensure the sponsoring organisation receives relevant press, we would suggest involving the charity in the Communications Plan, and wherever possible mentioning and quoting their organisation to ensure association with the project. The same rings true for corporate sponsors.
7. Ready, steady, bake
Are any of the comms team or nurses on the neonatal unit a dab hand at baking tasty treats? Now is the time to call in a favour and ask them to make a special cake for the vCreate launch. Not only will the cake go down well with staff and parents, it will also provide a focal point for photography. To see some examples of some wonderful cake creations made by nurses, drop us a note!
That's a wrap, we've reached the end of our top tips for launching vCreate for NHS Comms Teams. Good luck with your launch and we look forward to speaking with you soon! Got questions? We'd love to hear from you...drop us an email via
theteam@vcreate.tv