19 September 2019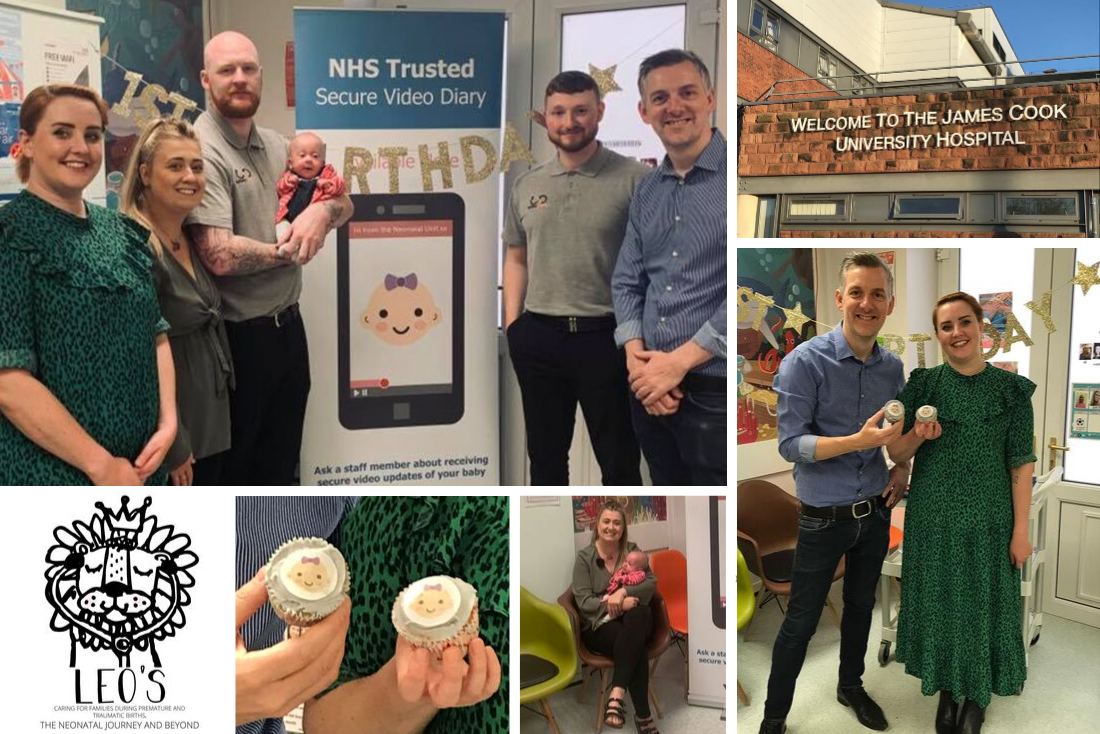 Today saw the launch of vCreate's Video Messaging App in the neonatal unit at James Cook University Hospital (the first of four neonatal units over the coming months), thanks to a partnership between Leo's Neonatal and vCreate.
Leo's Neonatal
is a charity that was founded by Lottie King, in memory of her son
Leo
, who very sadly passed away just a few short hours after his premature birth. Today marks one year since the charity first launched, and we are delighted to be a part of the celebrations of this fantastic organisation. It has already achieved so much in it's aim to support families in the neonatal unit and beyond, including establishing the UK's first
Neonatal Mental Health Awareness Week
.
The introduction of the vCreate App will allow nursing staff in the neonatal unit to record video updates of poorly babies on the unit, for mum and dad to access from their phones at times when they aren't able to be by their child's side. When baby is discharged from the neonatal unit, parents can download all video clips of their baby and keep them forever.
Lottie King, Founder of Leo's Neonatal, explains why the service is being made available:
"Parents whose baby needs to spend time in a Neonatal Unit experience a rollercoaster of emotions and unfortunately anxiety and PTSD are frequent. By making this new service available, we will be reaching parents at a critical time, they may be at their lowest point, but receiving video updates from the unit, will be like providing a virtual hug to help them carry on."
With funding from the local community and grant funding, the service will be available for free to units and free for parents, who will be able to sign up for the vCreate App as soon as they arrive in the neonatal unit or, whenever possible, when mum is still in Intensive Care.
Leo's have already had a show of support from, Thomas Robinson, Founder of
Infinity Digital
, who has been affected by premature birth, following the admission of his daughter, Penelope, to the Neonatal Unit at James Cook University Hospital. Thomas said:
"Once we heard about Leo's plans to introduce the vCreate system, we knew we had to be involved! I know first-hand how hard it is to go home at night and leave your child. I spent many sleepless nights worrying about how she was, if she was feeding well, if there were any concerns, I wasn't aware of... Most of all I just missed her beautiful face! If there was something like vCreate in place, I know it would have made what was without doubt the toughest time of our lives, a lot more bearable!"
Ben Moore, Founder of vCreate, says:
"We worked with Leo's to support families during Neonatal Mental Health Awareness Week, and realised that we both have a shared passion for supporting families going through the trauma of having a child who is born too soon. The cost this has on parents' mental health is huge. By reaching parents early in their neonatal journey and sending them cute videos that help ease the pain, we are getting one step closer to ensuring fewer parents get diagnosed with anxiety and debilitating PTSD."
Over the coming months, Leo's will be launching vCreate at Darlington Memorial, North Durham and Sunderland Royal Hospitals to ensure more than 1,300 families can access this service, what an achievement!