21 October 2022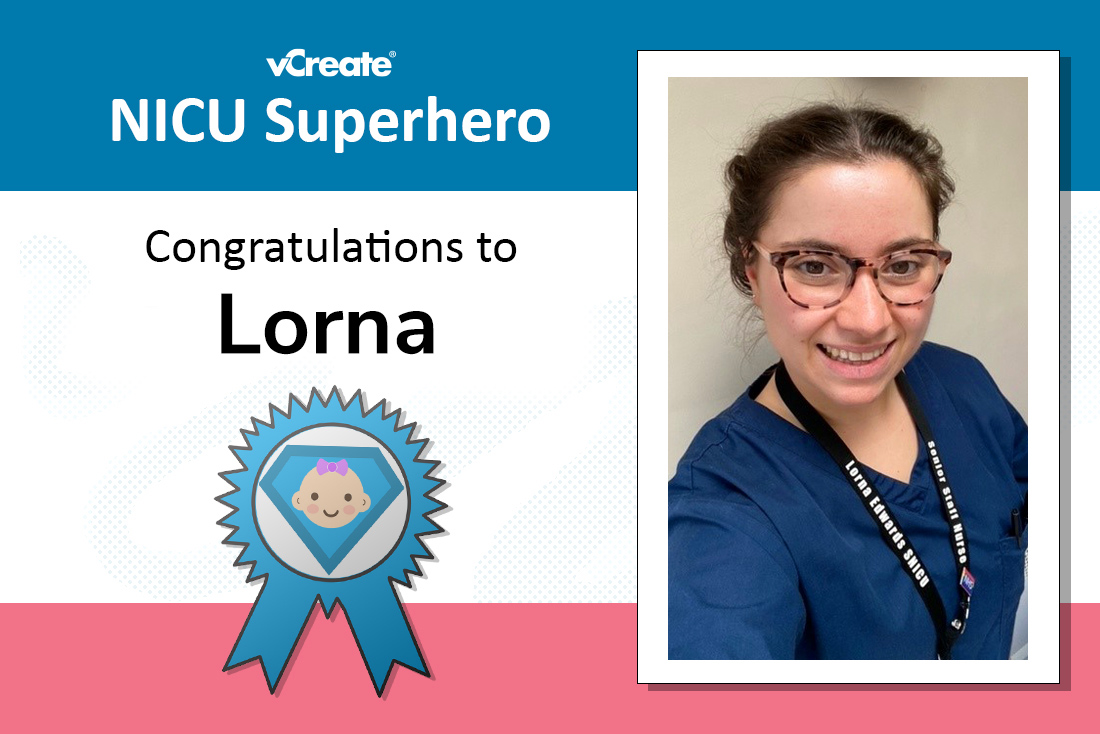 Lorna from Musgrove Park Hospital has been nominated for our NICU Superhero Award by Gemma.
When Gemma's daughter, Ayla, was born 12 weeks early, Gemma and her husband were so grateful to Lorna for her care.
"Things all felt like they happened so quickly. I was super anxious due to it being way too early for my little girl to arrive, and at the same time, my son was on a different ward having an operation too.

I so desperately wanted to be with him but unfortunately, I couldn't be.

A few hours later I was asked if I wanted to go see my daughter. There was nothing I wanted more, but at the same time, I felt so scared. I had no idea about NICU. No idea what I was going to see and what Ayla was going to look like.

Once we were in the unit and washed our hands, we were greeted by the most warming person I have ever met and she just instantly put me at ease. That person was Lorna.

I remember her spending that whole afternoon with us, explaining everything about NICU. She told us about the different machines, what all the wires & tubes were for, she asked us as parents how we were feeling and allowed us to ask as many questions as we wanted (and trust me, as the anxious, worrying person that I am, I had loads).

Nothing ever felt like it was too much bother.

Lorna showed us how we should touch Ayla, how to hold her, how to tube feed her, and explained the importance of skin-to-skin.

We ended up spending 9 weeks in NICU and I can honestly say it was the toughest journey parents can ever go through.

Ayla had good days and bad days. Lorna was the best support to all of us as a family.

She always went above and beyond by keeping us up to date with Ayla's progress and what the next steps were for her. She sent us photos and videos on vCreate when we couldn't be there.

I had days when I sat for hours on my own with Ayla due to my husband being at work, and Lorna would always make a conscious effort to come and talk to me.

Nothing I ever asked of Lorna was too much trouble, and suffering anxieties like I do, I believe my whole experience of NICU could have been very different if it wasn't for her. Not only did she help to keep me sane, she provided Ayla with the BEST care I could ever wish for. She was always so gentle and calm with her, and had the most amazing way with all the babies.

I really can't praise her enough, and Musgrove are so lucky to have her. The unit as a whole is just amazing. Every single nurse that works there is just incredible."
Congratulations, Lorna!
The way you put parents' anxieties and worries at ease is so important when they are on their neonatal journey. You are a star!
Would you like to nominate your NICU Superhero?
Our nomination process means that we will be accepting a small number of nominations on a regular basis. Please keep an eye on our
Instagram
and
Facebook
stories as we will post updates about when we are next accepting nominations.