30 May 2018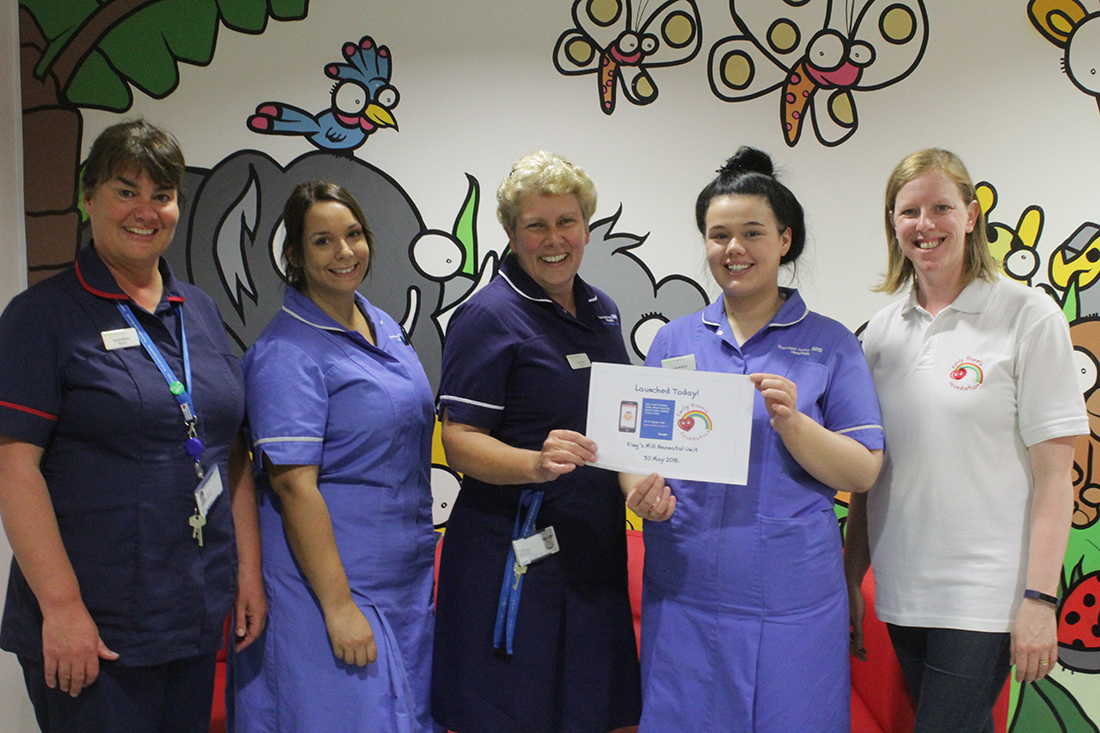 From left to right: Rachel Barker, Matron; Stephanie Boland, Neonatal Nurse; Susan Selby, Sister; Sarah Roberts, Neonatal Nurse; Clare Harris, founder of the Emily Harris Foundation.
Parents of newborns that need to be cared for at
King's Mill Hospital's
neonatal unit will now be able to watch their baby's progress and share special moments, even if they can't be at their bedside.
The new vCreate app, which has been launched today at King's Mill Hospital, will allow nursing staff on the hospital's neonatal unit to record videos of the babies in their care on an iPad and send them securely to parents' smartphones and tablets. The hospital is the first in the East Midlands to introduce an app of this kind.
The application is free for parents to use and has been launched at the hospital with help from the
Emily Harris Foundation
. Founders of the charity, Clare and Neil Harris, from Clipstone, were keen to support the new technology to thank the unit for the support and care their first daughter Emily received, who sadly passed away at just five months old from a heart condition.
The Emily Harris Foundation has supported the neonatal unit since 2008 and in that time has raised more than £100,000, which has contributed to the provision of bags filled with useful goodies for hundreds of new parents, breastfeeding chairs and giving new parents whose babies are on the neonatal unit bus tokens so that they can easily travel back and forth.
One mum who currently has twin girls, Esmee and Maya, on the neonatal unit, has been testing out the new app. Sammi Wood said: "I come to the unit every day to see the babies, but having to leave them is always so hard. Having this new app makes it a little easier as I know that I can see them whenever I want to on my phone at home. For parents that can't always be on the unit with their babies, like Esmee and Maya's dad, it does definitely help to put your mind at ease."
Neonatal Nurse at King's Mill Hospital, Sarah Roberts, added: "We are over the moon and incredibly grateful that we are able to introduce this new feature on our neonatal unit. It's a lovely tool not only for parents, but for other family members too who can't always be at the hospital.
"We understand just how difficult it can be to have a baby in hospital, especially when parents need to go home and rest and can't be with their baby all-hours. We hope that by being able to record the progress of their special babies we can help to reassure parents and families of their baby's wellbeing and give them the reassurance they need when not with them.
"I would also like to thank the Emily Harris Foundation on behalf of the Trust for funding this wonderful new technology and bringing it to our families. Without their support and generosity we know that we wouldn't be able to offer technology like this just yet."
Clare Harris, Founder of the Emily Harris Foundation, added: "We are delighted to be able to finance this new initiative. As a charity we have supported the neonatal unit for 10 years now and our primary aim is to make life a little easier for families who find themselves in this highly stressful situation. This technology will enable parents to both be reassured that their baby is okay when they cannot be there and will also capture moments that would otherwise be missed by the family."