25 May 2018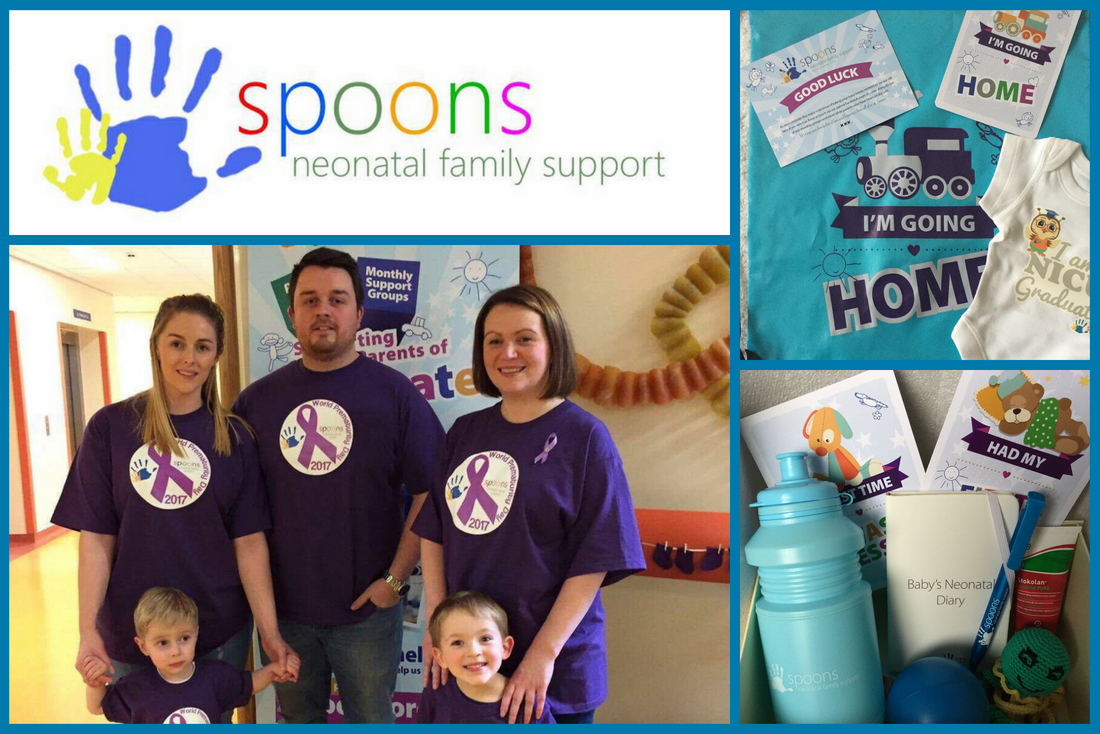 Since launching vCreate Neonatal, we have discovered a network of wonderful people and organisations that make it their business to improve care for premature and poorly babies and to provide support for their families.
Spoons
is one of those organisations, and we are delighted to share their story of how they came to be, and to help raise awareness of the great work they do.
We caught up with Kirsten Mitchell, one of the founding members of the Spoons charity, to learn more about their work...
What do you do?
Spoons is a charity based in Greater Manchester that started out as a community support group in 2015, and registered as a charity a year later in 2016. Today we have a number of volunteers and a board of 4 trustees, who all have personal experience of neonatal care, either as a parent or as a healthcare professional. Parents continue to support us and get involved. We also have developed great relationships with units and have made positive changes with their support.
What is the charity's main aim?
We offer peer support, emotional support and practical advice to parents and families experiencing neonatal care, primarily at North Manchester and Royal Oldham.
What support do you offer to families?
Spoons is a needs-led service. We understand the challenges parents face; we use our own experiences to improve things for other families. We engage with families continuously, if they tell us something would have made a difference to them, we look into it. Our peer support volunteers make themselves available to meet with parents in the unit for a cup of tea and a chat, they sit by the cot side with mum or dad to keep them company, or organise social events on the units for parents to come together.
The value of peer support cannot be underestimated there is something special about talking to another person who has walked in your shoes.
In addition, we work with staff to provide items for the babies, supporting developmental care or sensory development…if we see it is needed we will do our best to get it. We buy toys for siblings and furniture and furnishings to make family facilities more comfortable. We also provide welcome packs for parents that contains practical items and keepsakes to help them through their time on the unit.
What are your future plans for Spoons?
We have some big plans for this year, we are focusing very much on mental health. Experiencing neonatal care is traumatic, very few people expect to end up on the unit and it can be a huge shock that impacts on the whole family. An increasing number of parents are being diagnosed with PTSD months down the line, and we know this because some of us have been there too. We want to help change this and provide services to relieve stress and promote good mental health and wellbeing throughout the neonatal journey, this is really important to us.
If you could give one piece of advice to a family with a baby in the neonatal unit, what would it be?
Remember that the little baby in that incubator is your little baby, get as involved as possible with every aspect of care; feeding, nappy changing, changing sheets, do everything you can. It is easy to feel in the way on the neonatal unit, but you're never in the way. You're a key player in your baby's care and you are very important.
If you work or fundraise to support babies and their families receiving neonatal care and you'd like us to share your story, please get in touch via
theteam@vcreate.tv
, we'd love to hear from you.