05 October 2023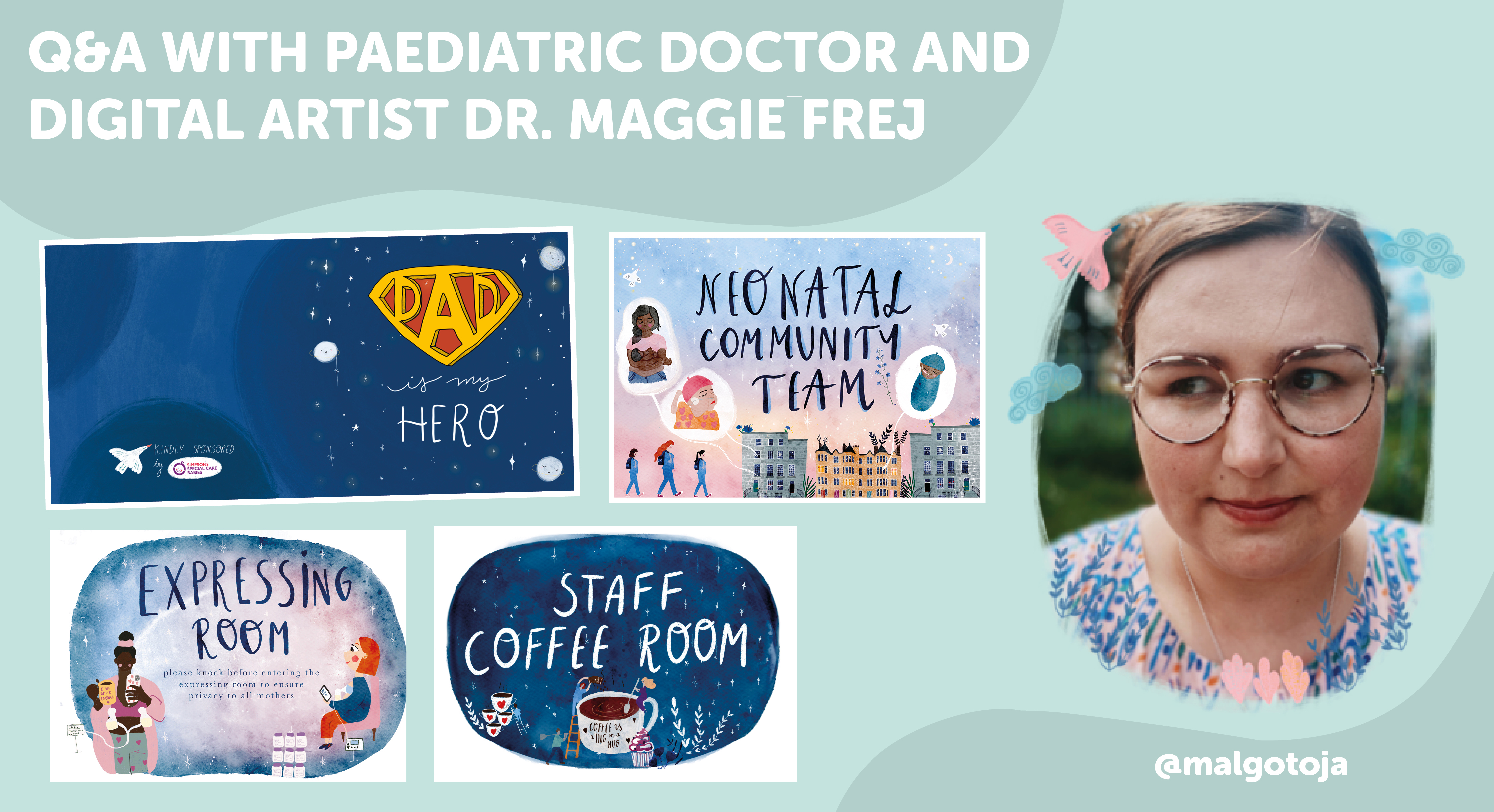 We interviewed Dr Maggie Frej, a Paediatric doctor, digital artist and mother based in Edinburgh, who we've had the privilege of working with on a variety of artistic projects.
Could you tell us about yourself and your role?
My name is Maggie, and as a paediatric trainee, my work primarily revolves around caring for patients on both paediatric and neonatal wards, admitting patients, participating in consultant ward rounds, implementing management plans, and performing various medical procedures.
Could you share your experience of becoming a mother?
During my Foundation training, I had the joy of welcoming my daughter into the world, which was an incredible and challenging journey for me. As most of my friends weren't at the same stage of starting a family, I sometimes felt socially isolated and unfortunately experienced depression and required treatment.
Fortunately, I had an exceptional GP who started my treatment and recommended a clinical psychologist. Through evidence-based therapy and medication, I eventually made a full recovery, although it took several months before I felt like my true self again.

How did your interest in art come about?
During my recovery, my clinical psychologist suggested engaging in one activity each day. I stumbled upon a watercolour course at the Edinburgh Botanics, where I dedicated my Monday afternoons to drawing and painting flowers. This therapeutic experience provided me with a sense of relaxation, helping me process the world around me.
What role does art play in your life after childbirth?
I've continued painting and drawing to unwind and discovered the joys of digital illustration on my iPad. Whether it's a quick sketch before work or longer drawing sessions on the weekends, it's become a vital part of my self-care toolkit. Having this outlet has undeniably helped me maintain my well-being while juggling motherhood and my medical profession.
How do you balance your work as a digital artist and a paediatric doctor?
My work as a digital artist began during the COVID-19 pandemic when I initiated a project with the Simpson's neonatal unit to create a more homely and welcoming atmosphere for families. I painted new door signs for all the rooms and collected feedback from both staff and families. I presented my work at the BAPM annual conference in 2022 and was honoured to receive the best poster presentation award. Since then, I've been involved in several quality improvement projects, including the Golden Drops initiative, which aims to increase the number of premature babies receiving their mother's milk within the first 24 hours of life.
I strongly believe that utilising art has helped raise the profile of these projects and drawn attention to the important work we're striving to accomplish.
What do you hope to achieve through your work?
All the resources I create for the Edinburgh unit are available on my
website
and accessible to the neonatal community. For instance, my Christmas card for NICU parents has been widely used across the globe, including units in the UK, Europe, Asia, North and South America, and Australia. Ultimately, my goal is to utilise art and design alongside my paediatric and neonatal work to ensure that parents feel like indispensable members of their baby's or child's care team.
You can see more of Maggie's work on her website and
social media
pages