27 February 2018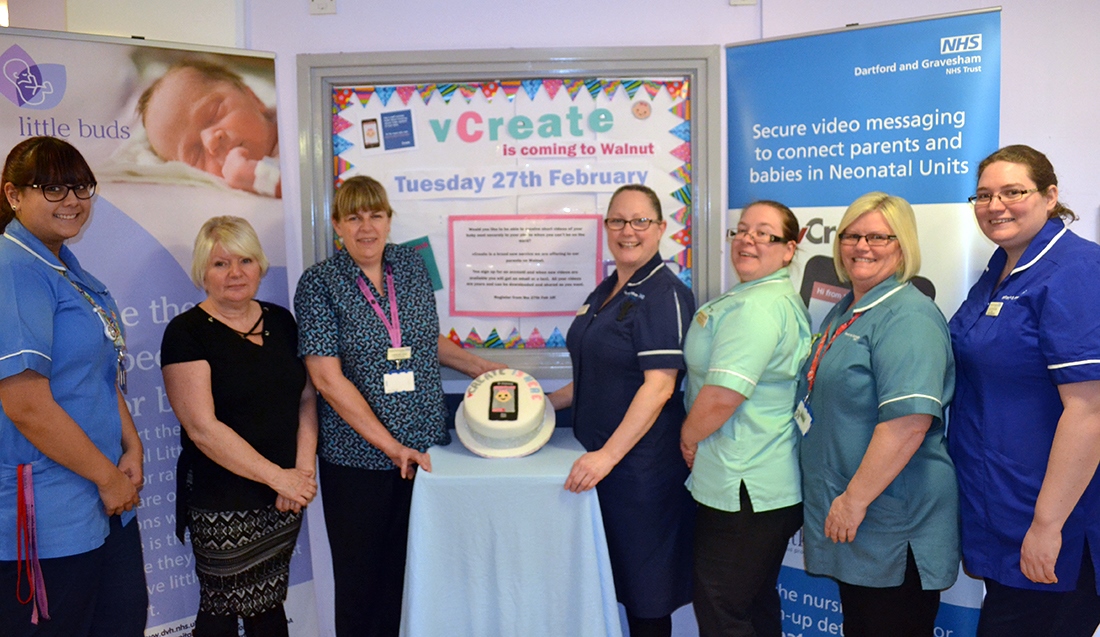 From left to right: Luchi Sharpe - Staff Nurse, Christina Thomas - Senior Sister, Lorraine Head - Ward Administrator, Michele Wright - Senior Sister, Danielle Crane - Nursery Nurse Associate Practitioner, Karen Smith - Nursery Nurse, Chloe Packham - Sister.
On Walnut Ward at 12pm on Tuesday 27th February, Darent Valley Hospital will be celebrating the official launch of vCreate, a web-based application that lets nurses record video updates for parents who can't be at their baby's cot side around the clock. As the first Level One special care baby unit in England to introduce the new NHS approved system, the nursing team are delighted to be able to offer this service to parents of a premature or poorly baby, to help reduce separation anxiety, and aid bonding in the precious early days of baby's life.
The nursing staff, who have been working towards the Bliss Family Centred Care Accreditation, are eager to start using this with families. Helen Coates, Sister on Walnut Ward, has been leading on the vCreate project:
"We have been looking at ways to improve bonding and breastfeeding in our parents' journey. We have introduced a 'Bonding with Baby Board' to educate parents on ways to bond with their baby, and give out 'Bonding Hearts' so both mum and baby can keep each other's scent with them to calm and soothe baby, and encourage and promote lactation and more effective expression of breast milk when mum is away from baby. For mum or dad to be able to wake up to find a notification that a video is waiting for them, that they can securely log in and view to know baby is ok will be so reassuring. They can also share the video with siblings and wider family."
The parents secure account can be moved with the family to another NHS Trust should the baby need to be transferred to another unit. This will help create a video-storybook of baby's first precious days and weeks that the family can treasure.
The system is being funded through the Little Buds Fund, one of Valley Hospital Charity's special funds at Dartford & Gravesham NHS Trust. Sally George, Head of Fundraising said: "We are absolutely delighted to be able to support this project with charitable funds. We have no doubt what a benefit this service will be in easing some of the anxiety of new parents who find themselves in limbo, between home and hospital, as their new baby receives the vital care they need to survive and thrive. Built into the system is a donate button, so if families appreciate the service they receive they have the option to make a donation to help keep the service going. The Little Buds Fund was set up to help provide the best special care for babies, which not only means life supporting medical equipment, but also improving the patient experience, which we believe this does."
Ben Moore, Founder of the vCreate Neonatal Video System, said: "We're thrilled that Darent Valley Hospital Special Care Baby Unit have chosen vCreate, and hope the vCreate videos will provide reassurance to parents during a difficult time. The sponsorship provided by the Little Buds Fund is fantastic as it means the unit and parents can access the service for free."