06 June 2018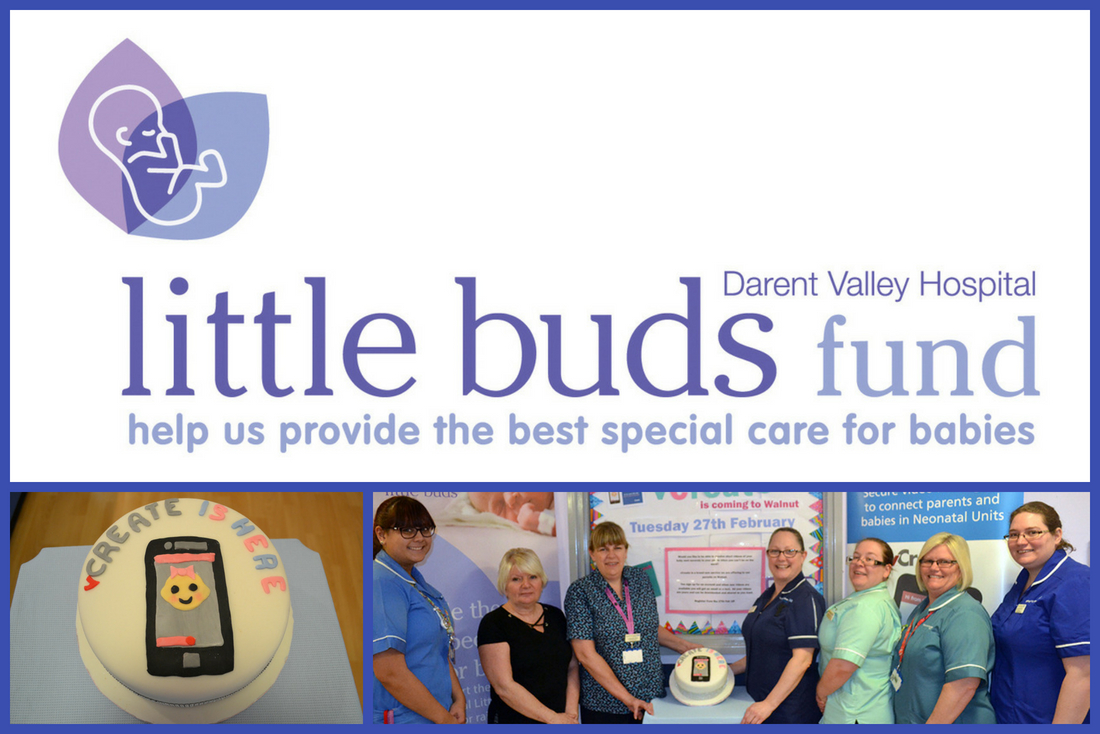 The support that charities provide to Neonatal Units is second-to-none; it helps them purchase valuable, sometimes life-saving equipment, that they might not necessarily have budget for.
The Little Buds Fund
, is one such charity. We caught up with Sally George, Head of Fundraising and Voluntary Services, as part of our Sponsor Spotlight feature, to find out more about how the charity supports the Special Care Baby Unit at
Darent Valley Hospital
, and why they chose to fund vCreate for the unit.
Tell us about Little Buds
It was set up by Valley Hospital Charity to support the expansion of our Special Care Baby Unit at Darent Valley Hospital in 2012. We grew from just 10 cots, up to accommodating 22 babies. The appeal helped equip this larger unit, and was adopted as an ongoing special charity fund to benefit the special care of babies, from conception to cot at the hospital. We now see around 5,000 births at Darent Valley Hospital each year.
How did you hear about vCreate?
The nursing staff on Walnut Ward (our Special Care Baby Unit) have been working hard towards the
Bliss Baby Charter accreditation
, a framework designed by
Bliss
to standardise high quality family-centered-care across the UK. Helen Coates, Neonatal Sister, found out about the vCreate system and was passionate about its benefits. Helen was the driving force behind the project, working closely with Ben from vCreate over some months to ensure the governance was in place and gaining support for the project internally. Helen approached me regarding possible funding mechanisms to enable this project for reducing separation anxiety between babies and their parents, as spare NHS funding is hard to come by, even when you can see the benefits to patients and their families.
Why did you choose to sponsor vCreate for the Special Care Baby Unit?
The purpose of the Little Buds Fund is to 'provide the best special care for babies.' We are very lucky to have a lot of support for this special fund. Along with purchasing life supporting medical equipment for the ward, we also see the importance of having a welcoming environment, and have supported the decoration of a family room for siblings; the smaller things that can mean so much.
Knowing from first-hand experience what it is like to have children spend time in special care, I know how worrying it can be for new parents, when having the baby in your arms, doesn't turn out like the fairy tale you originally pictured. Mums are often discharged before their babies are strong and well enough to go home with them; and that long distance relationship can be crippling and worrying for both mum and dad.
Also, when a mum wants to breastfeed, it can be difficult to encourage lactation when your baby is not nearby and you are having to manually express. These short videos of your baby are there so that when you wake to express in the night, or when you first wake in the morning, you can see your baby, and that can enhance bonding and reduce separation anxiety.
We were confident that supporters of the Little Buds would be thrilled to know we were helping to fund this project with their donations. By having our charity logo on the login screen with a donation button, it will hopefully encourage those who use the service, and are grateful for it, to say thank you by making a donation to keep it going.
What does the future hold for the Little Buds Fund?
We have another expansion and an upgrade of the Walnut Ward planned in the coming year, and Little Buds will be instrumental in supporting this growth. We are looking to increase from 22 to 26 cots, and to be able to care for babies from 27 weeks gestation; currently babies are transferred to another unit, and then returned to our care from 31 weeks. The charity will help to purchase new equipment and create the environment that staff want for their patients' families. We are excitedly looking at organising our first Little Buds Ball in Summer 2019 to raise additional funds to support this project.