14 September 2018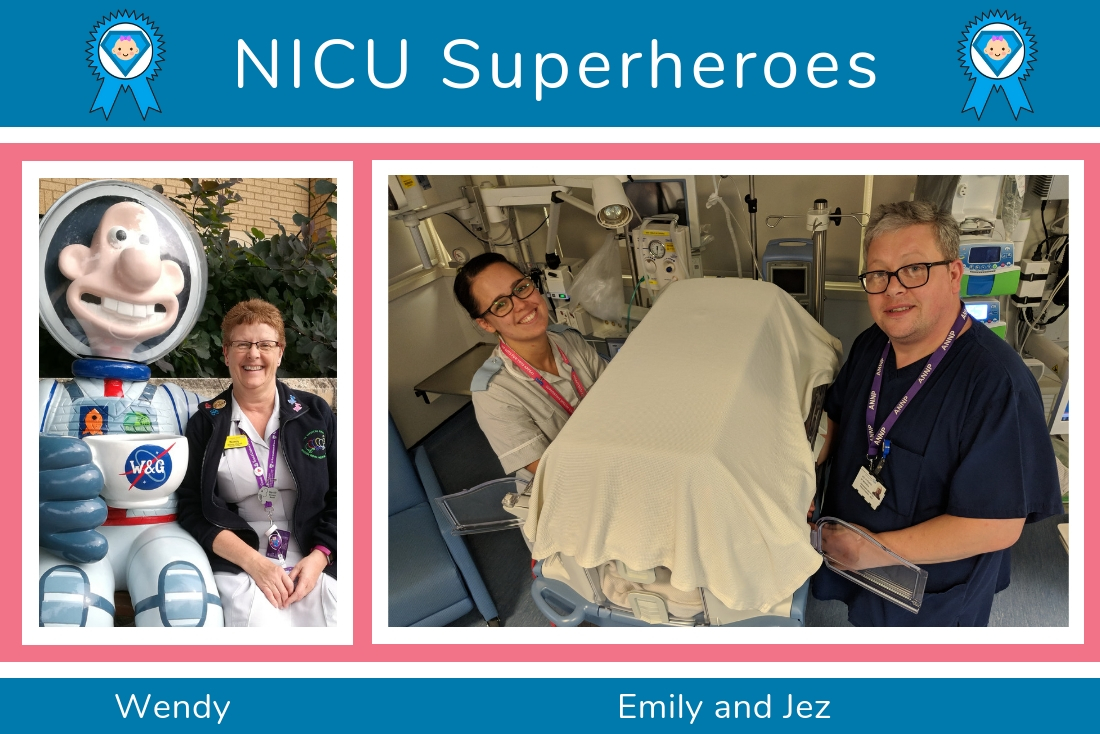 Our campaign to celebrate excellence in neonatal care continues, as Carla Hope reveals her NICU Superheroes.
Carla's baby Teila, was born at 34 weeks and spent 5 months in the Neonatal Intensive Care Unit at
St Michael's Hospital
in Bristol. She was later transferred to the
Bristol Royal Hospital for Children
, as she required Specialist Paediatric surgery. Last month, Teila was discharged from hospital following 9 months of care, and we're happy to report that she is now home and doing well.
Throughout this incredibly difficult period, both Teila and Carla had the support of some very special people, here are Carla's NICU Superheroes:
Emily Attard
"I would like to nominate Emily from St Michael's Neonatal Unit, as she was fantastic during my daughter's 5 month stay. Her level of knowledge, her ability to stay calm in a crisis, her humour, her way of always making you feel comfortable, and how she genuinely cares on a personal level for every patient she looks after is just admirable. I felt that Emily was highly trustworthy and always professional, she helped me to rest better knowing that my daughter was in her care. She's amazing and I would love for her to receive a NICU Superhero award."
Jez Thomas
"I'd also like to nominate Jez, a Nurse Practitioner at St Michael's Neonatal Unit as he is just brilliant. He always took on board my views and opinions, and took the time to help me take a breath and a few steps back when things were really tough. I have ADHD and I like to understand what's going on as much as possible, so I always had a long list of questions, which Jez answered in great detail, he was amazingly patient with me. His direct and honest manner was hugely appreciated in my journey and I thank him for his knowledge, his experience and for his involvement in getting my daughter to where she is today, stable, happy and safe for discharge."
Wendy Hignell
"Wendy works on the Caterpillar Ward at the Bristol Royal Hospital for Children and has played a huge role in my daughter's neonatal journey. She has recently cared for my daughter during her most invasive times, and she was outstanding. Nothing was ever too much, and she always pulled out all the stops to ensure my baby girl got exactly what she needed, when she needed it. With my daughter's care being so complex, it wasn't always easy, and specialist procedures and equipment were needed...Wendy was a star throughout it all. She was a great listener and put up with my outbursts of emotion, and at times, frustration, and really helped Teila and I the best she could. Wendy is very on the ball and always comes through...she really is a superhero."
Carla added,
"Teila is doing amazingly well thanks to these guys and their brilliant teams. They not only give babies and children the best possible care, but they help parents in ways I'm sure they don't even know. I just wish I could show my appreciation with more than just words."
Thank you Carla for sharing your journey, and congratulations to Emily, Jez and Wendy.
If you would like to give a shout out to someone who you think is extra special, please do get in touch via
parents@vcreate.tv
, or send us a direct message via our
Facebook
or
Twitter
pages. Staff that are nominated for the award will receive a special
NICU Superhero rosette
, a certificate, and be in with a chance of winning our 'NICU Superhero of the Year' award, which will be announced in March.
A note for neonatal staff
Please help us to spread the word by printing this
poster
and displaying it in your unit.