28 March 2018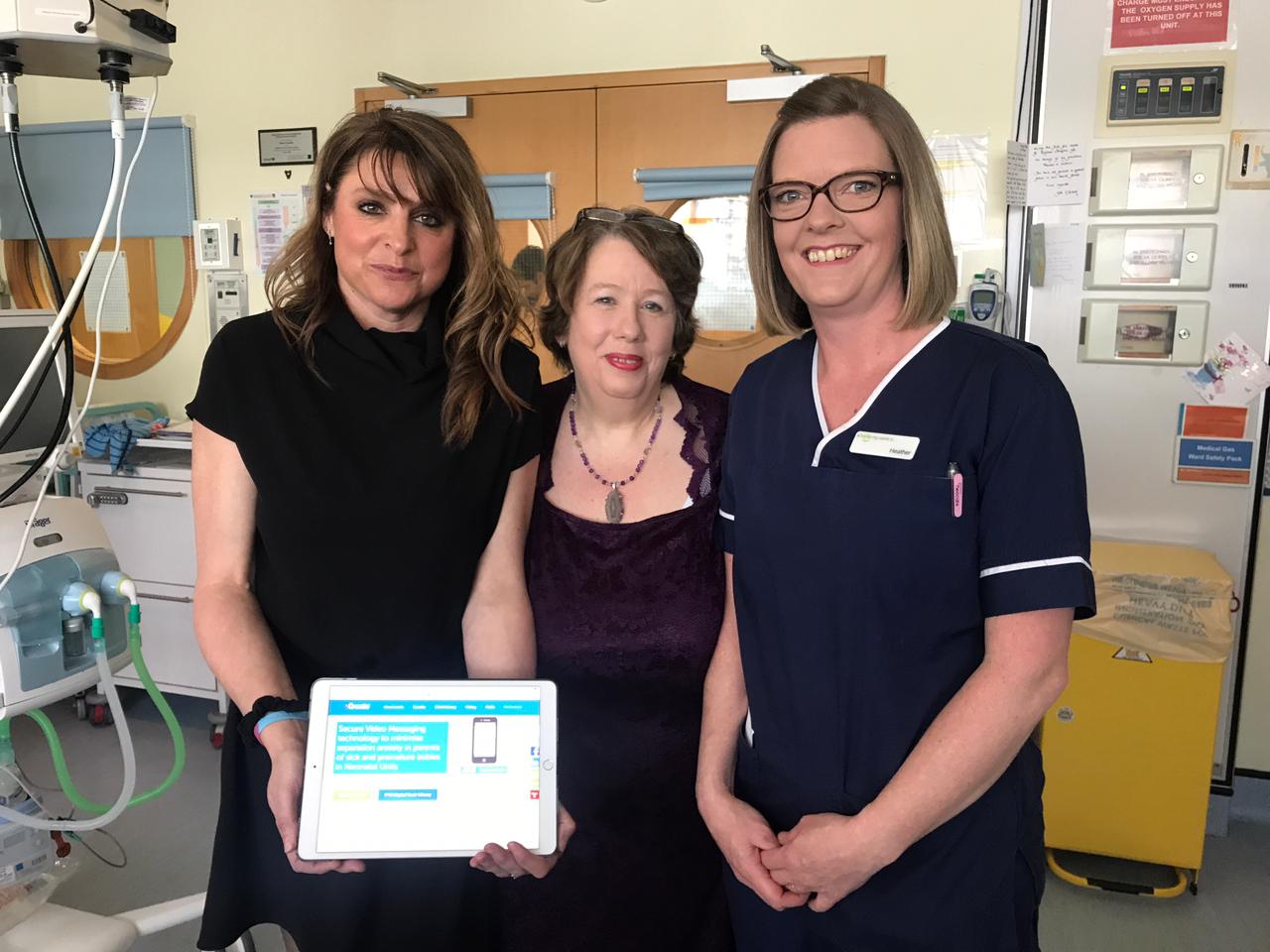 From left to right: Jo Priaulx, Trustee PPBF, Crystal Braybrook, Senior Neonatal Nurse and Heather Renouf, Lead Nurse Neonatal.
The Special Care Baby Unit at
Princess Elizabeth Hospital
(PEH), Guernsey, is to hold a special event on Wednesday 28th March at 11am to mark the launch of vCreate, a web-based maternity application that allows nurses to record special moments that might have previously been missed by parents of premature babies.
vCreate helps to reassure parents of their child's progress when they need to go home to get some much-needed rest, or spend some time with older siblings, by allowing nurses to record video updates from a hospital-owned tablet device, and send them securely to the parent's own smart device. Once sent, video updates can be accessed at any time of the day or night by parents.
The application is free for parents and to the unit thanks to support from the
Priaulx Premature Baby Foundation
. Jo Priaulx, co-founder of the PPBF, was keen to support the technology following the premature birth of both of her children. Jo said:
"When the neonatal unit staff first spoke to us about vCreate I knew instantly that it was something that I would like the PPBF to support. I know personally how difficult it is to have to leave your baby in hospital. When Sebastian was born I had to leave him each night for the 20-mile return trip home as we were living in the UK at the time. It was 17 years ago but the memory is as fresh as if it was yesterday and it was so upsetting to leave him each night. This new technology will give new parents such reassurance as well as an incredible record of how far their baby has come. We're very excited to be involved and would like to thank everyone that supports the PPBF."
Heather Renouf, Lead Nurse of the PEH Neonatal Unit, explains why she thinks the new system will benefit parents:
"Nursing staff will be able to record precious moments on camera, like when baby opens his or her eyes for first time, or comes off ventilation. These milestones are important to parents. Over time a video diary builds up, and that's a record of the child's journey that can be kept forever. I would like to thank Crystal Braybrook for bringing the idea to the unit and, on behalf of the unit, I would like to say a huge thank you to the PPBF for their endless support."
In addition to providing funding for the vCreate App, the PPBF have also bought a new iPad for the unit to support the roll-out of the video system at the Special Care Baby Unit.
Ben Moore, Founder of vCreate, said:
"It is wonderful that the SCBU at the PEH is introducing video updates for parents; we hope that vCreate videos provide additional support and reassurance to parents of premature and sick babies born on the island. The funding provided by the PPBF is incredibly generous and is sure to help many families."