01 November 2019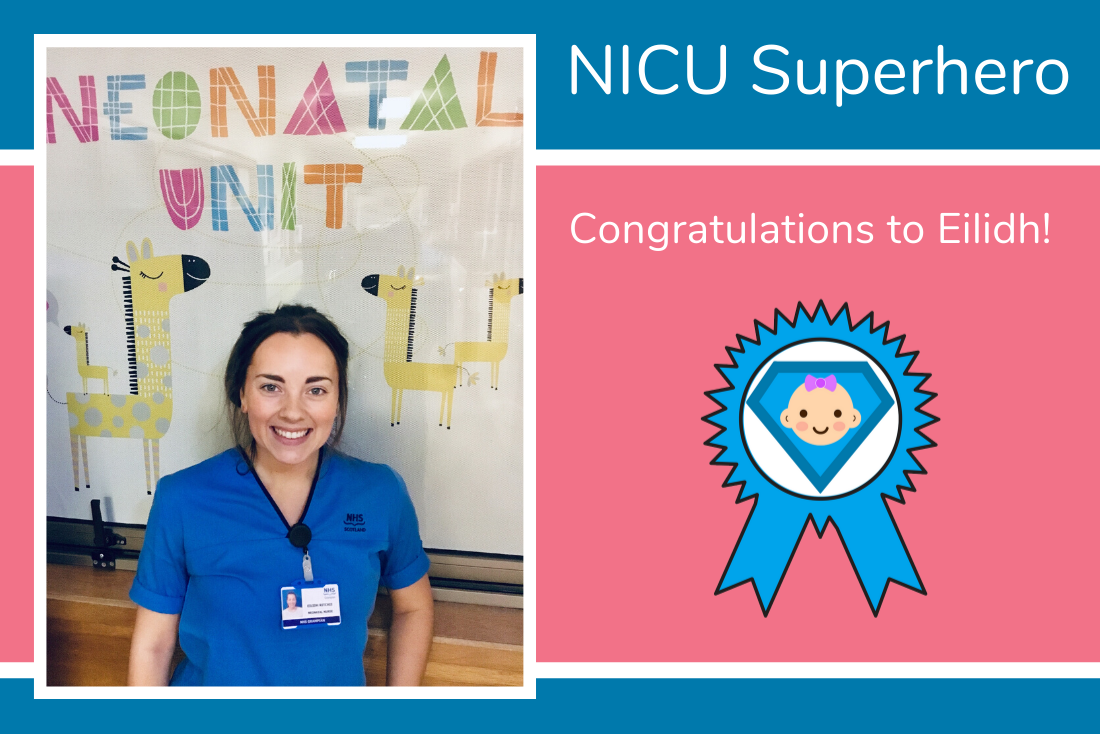 In recent weeks, we have received THREE nominations for today's NICU Superhero, congratulations to
Eilidh Ritchie
from the neonatal unit at Aberdeen Maternity Hospital! Eilidh was nominated by Roslynn Gow, Sarah Lawson and Carolina Flannery, here are their stories.
Kayden's mum
Roslynn Gow
told us:
"My little boy Kayden, is currently in the neonatal ward after a bit of a traumatic start. He was taken down to neonatal when he was 4 hours old and he's now 5 days old and still receiving help and care from them. The team in the Aberdeen unit have been, and continue to be amazing with him and us, but Eilidh has really stood out. She has been there since his first day in the unit and I had no idea what to expect when I was fit enough to go see him the night he was born.

Eilidh has been amazing with not just Kayden but with us too, she has been so helpful and kind, she has no idea how much her kind words and actions towards us has meant to me over these last few days. She's always in such a cheery happy mood and keeps us up to date with what's going on regarding his care. She's been working nights since Kayden arrived and has been great for my confidence, reassuring me that I'm doing a good job with my expressing. She helped me to breastfeed him for the first time and has been so encouraging letting me have skin to skin with him when he hasn't been able to breastfeed, so I can still have some much needed quality bonding time with him.

She has become like a friend in these last few days which has been much needed with all the ups and downs in his journey so far. I have really appreciated her help and support to date and I wanted to let her know how much that has meant to us. She goes off on holiday for a week so we will probably be allowed to go home before she returns, hence why I wanted to nominate her for the special work she does as I won't have the opportunity to see and thank her properly before she is back. Gary (my boyfriend) and I think she is amazing and I know Kayden does too. Thank you so much Eilidh!"
Harry's mum
Sarah Lawson
got in touch to say:
"Our son Harry was born on the 15th of January this year and was in the unit for a very long 96 days. Eilidh took care of Harry on his first days of life when he was so very critical and she took care of him a lot whilst he was in the unit. She had a great bond with Harry and we could tell she loved looking after our precious little boy, the love and care she gave him was fantastic. Not only was she amazing with Harry but she also gave us a lot of support through our very hard journey.

It was difficult only choosing one NICU Superhero as there were lots of nurses we could have chosen and we can't thank the whole unit enough, they were all so so caring and supportive. We will never forget the care Harry got whilst he was in the unit. Love Sarah and Callum."
Olivia's mum
Carolina Flannery
told us:
"Our little girl Olivia was born the day before her due date, unfortunately she had Hypoxic Ischemic Encephalopathy (HIE) which is a lack of oxygen and/or blood flow getting to the baby from the placenta. They sedated her and she had to be cooled to try and help limit her brain injury. Eilidh was her nurse for the majority of the time we were there and when Olivia had to have an MRI, Eilidh came with us. It wasn't until we had come back to the ward that I found out that it was meant to be her day off and she had chosen to work so that she could be with Olivia for her scan.

She found out it was my birthday coming up and she made me a personalised card from Olivia for my birthday. She was there for us when we needed someone to speak to and was so caring, she would treat Olivia as if she were her own, you could tell that she loved her. We can't thank Eilidh enough for what she has done for us and we will forever have a special place in our hearts for her. She has made a huge impact not only on Olivia's life, but ours as well. All the nurses there do an amazing job, thank you."
Congratulations to Eilidh and thank you to all the families for getting in touch to share their thanks for their NICU Superhero! We should add that since Roslynn submitted her nomination, Kayden left the neonatal unit and he is now home with his family. You can view photos of Kayden, Harry and Olivia on our
Facebook page
.
Do you have a NICU Superhero you'd like to nominate?
If you'd like to nominate your NICU Superhero, drop us an
email
and let us know. All NICU Superheroes will receive a
NICU Superhero rosette
, certificate and of course, a big shout out on our social pages/virtual high five!
Neonatal units, do your parents know about the award?
We have designed a poster which you can print off and display so that more parents can learn about our search to unmask those NICU Superheroes out there. You can
find the poster here
.