18 June 2018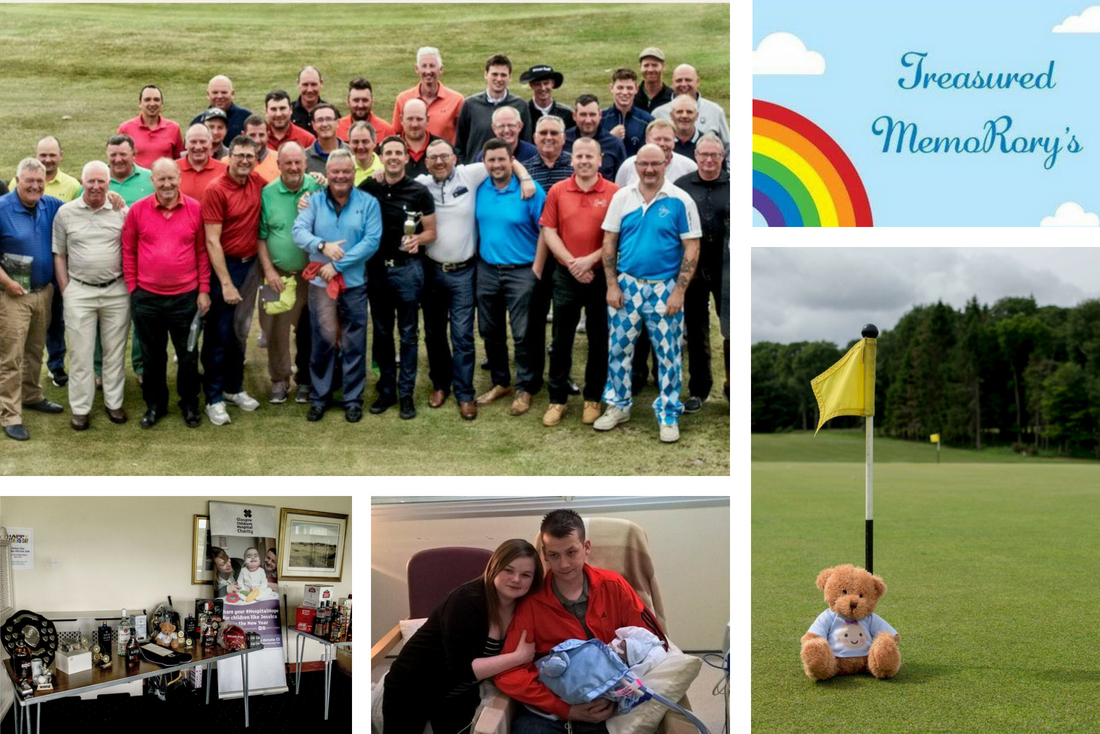 On Friday 15th June,
Treasured MemoRory's
hosted their third
Annual Rory Graham Memorial Golf Day
at Downfield Golf Course in Dundee.
Over 40 golfers took part in the tournament and raffle to help raise £2,700. Organiser and founder of Treasured MemoRory's, Stephanie-Jane Taylor, said: "We are so pleased with this year's event. I would like to thank everyone who took part and helped us raise this fantastic amount of money, your support will help us to support parents of premature and sick babies."
Treasured MemoRory's was setup by Stephanie in memory of her son Rory who was born prematurely at 27 weeks and very sadly passed away on the 5th May 2016 at just four weeks old. Stephanie and her family went on to setup Treasured MemoRory's in Rory's name and have since been raising money to help other NICU families. This year's golf day success has taken the total amount raised by the charity to £15,475!
In addition to their annual golf day, Treasured MemoRory's make personalised frames, cards and boxes for parents to keep as a memento, and sell them through their
Facebook page
. Money raised through these activities has been donated to the
Glasgow Children's Hospital Charity
, who support the neonatal unit at the Royal Hospital for Children, Glasgow, the hospital where Rory was cared for. They initially funded the
vCreate App
, a system which allows parents of babies born too soon to be sent video updates of their baby from the neonatal unit, when they are not able to be physically with their baby. The Glasgow Children's Hospital Charity thought that Treasured MemoRory's and vCreate would be the perfect fit.
Stephanie explained why she decided to fund the neonatal video system for the unit. "When Rory was in the Neonatal Intensive Care Unit at the Royal Hospital for Children in Glasgow it was very upsetting. I was still recovering myself so couldn't spend whole days in hospital; it would have been amazing to receive video updates of Rory to my own phone, and have them as a keepsake. We hope that by
funding vCreate
we'll be able to help parents that find themselves in a similar position to ourselves, and to keep our precious Rory's memory alive."
Hundreds of families
have already benefited from video updates of their baby thanks to Treasured MemoRory's, including Glasgow mum, Annette Russell, who said: "The vCreate videos are a true life line and connection when you feel so distant."
Speaking after the golf day, Stephanie said: "Everyone is already talking about next year so I'm sure we will be continuing to fund vCreate."
On behalf of the nursing team at RHC NNU, and all the parents who have benefited immensely from video diaries, thank you so much to the team at Treasured MemoRory's and their donors and supporters; your generous contribution is helping to make life on the neonatal unit a little easier.