04 September 2023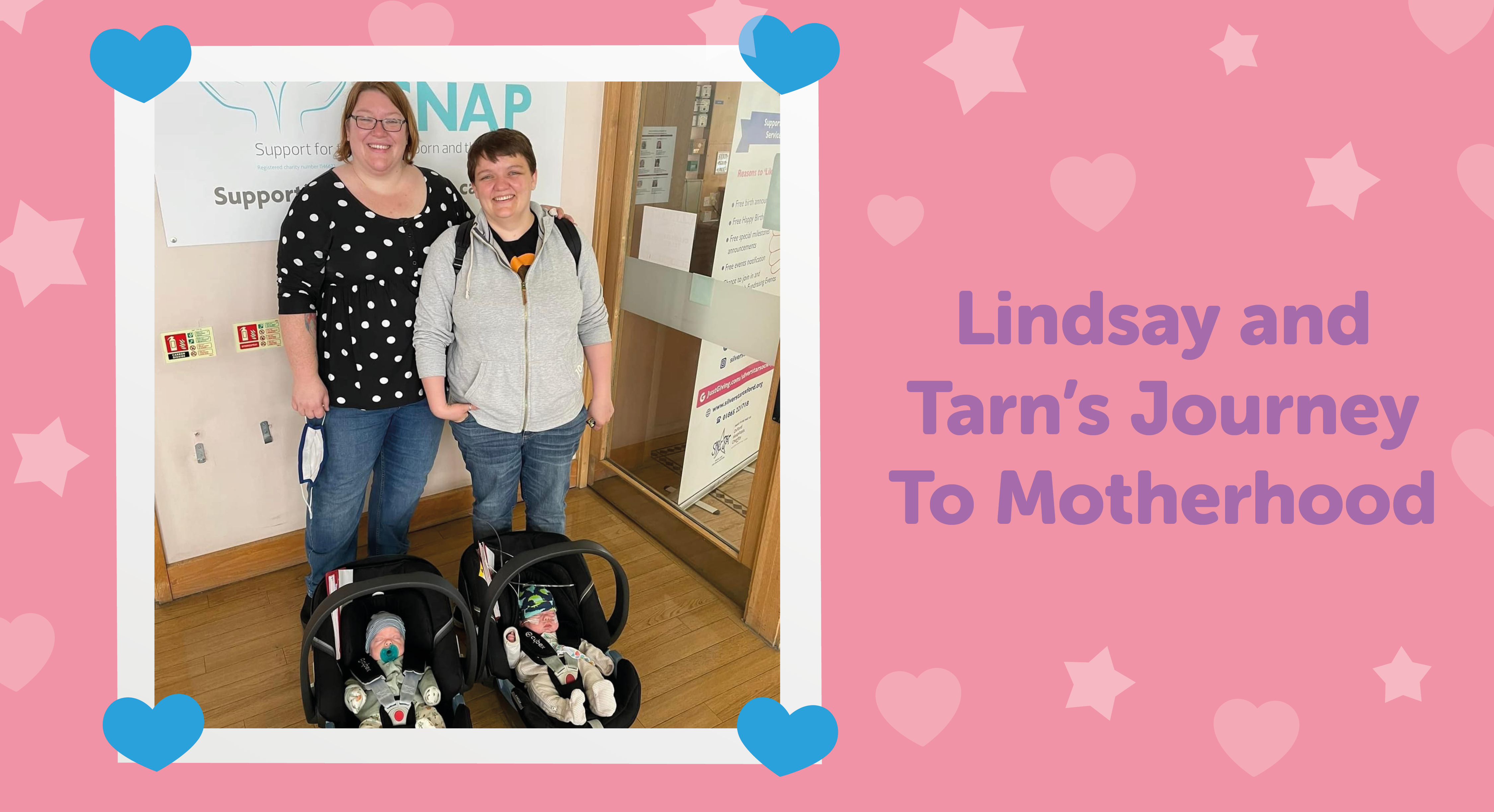 For same-sex couples, the journey to parenthood can be a rollercoaster. To increase visibility on this subject, we spoke to twin Mum, Lindsay, about her and her wife's story from conception and beyond.
Our conception journey started 5 years before Harry and Eloise arrived.
We weren't eligible for NHS treatment without first funding 6 cycles of IUI. The cost of this would have been more than a cycle of IVF, and given some underlying medical issues, would have been most likely unsuccessful. We decided to pursue private treatment instead.
In our case, the process for egg collection was very painful and difficult. My ovaries got so large and caused me pain with every movement.
Sadly, our first 3 cycles resulted in pregnancies that all miscarried and cycle 4 was a failed attempt.
After this, COVID hit and all the clinics closed.
Cycle 5 began just days after the clinics re-opened. We were reaching the limit of how much we could go through both physically and emotionally so we decided, for the first time, to implant 2 embryos. This was possibly our last attempt as I didn't think I could go through a loss again. However, this is when I became pregnant with Harry and Eloise! Tarn always says we were destined to be twin mummies!
We experienced multiple bleeds throughout our pregnancy,
but otherwise it was perfectly normal with both babies developing healthily.
We received excellent antenatal care. A moment that has stayed with us from this time is when a midwife so clearly saw Tarn as the twins' mum that she forgot that Tarn wouldn't be genetically related when trying to work out potential blood types of the babies. This made us both feel very relaxed and confident in how we are both viewed.
At 27 weeks, I had a very sudden haemorrhage at home and multiple ambulances were called out. Tarn had to travel separately due to COVID so we were both alone and scared. I had 5 days of stop/start contractions where Tarn and I had very limited time together. She was only allowed to be present when I was in the delivery suite.
In the early hours of the 11th of February, I started to feel 'off'. I warned Tarn that I thought this was it and that she needed to come in. By the time she got to the hospital, I was 8cm dilated and terrified. Harry arrived less than 40 minutes later. Eloise refused to follow him and I needed an emergency C-section to deliver her.
They were born 2lb 6oz and 2lb 7oz.
This is when they were both whisked off to NICU…
During their first few days in the NICU, I was quite poorly with an infection so couldn't see Harry and Eloise for long periods of time. However, Tarn was with them all day every day.
Tarn had numerous pieces of paperwork given to her where they asked for "Mother & Father" details. Each time, she had to cross out Father and put Mother in its place.
It was a shame because this was not reflected in how the staff made us feel. The staff 100% saw Tarn as the twins' Mum. No hesitation or questioning: we were both their Mums.
The twins spent 96 days in the neonatal unit, during which they had some rocky moments (numerous blood transfusions, infections, including sepsis for Eloise, scans, treatments). The stress during this time was unbelievable.
I was diagnosed with PTSD and really struggled during our time in hospital and when we got home. It was a long road to getting back on my feet again.
Now, Harry and Eloise, are thriving.
They are 2 and a half years old and developing perfectly. Their personalities are exactly like they were on the day they were born. Harry is quiet and watches the world go by, whereas Eloise knows exactly what she wants and will challenge anyone who gets in the way of that!
Tarn and I went through a very tough journey and it left scars on both of us. It took me a long time (and a lot of therapy) to heal from our experience and some things are still hard to look back on. However, I wouldn't change our journey at all. How could I? It was the journey that gave us Harry and Eloise. The journey that made us Mums.
If you or your loved ones have struggled with conception and a NICU stay, please know that you're not alone and there are people you can reach out to:
Bliss Charity
Tommys
LGBT Mummies
Spoons