11 April 2019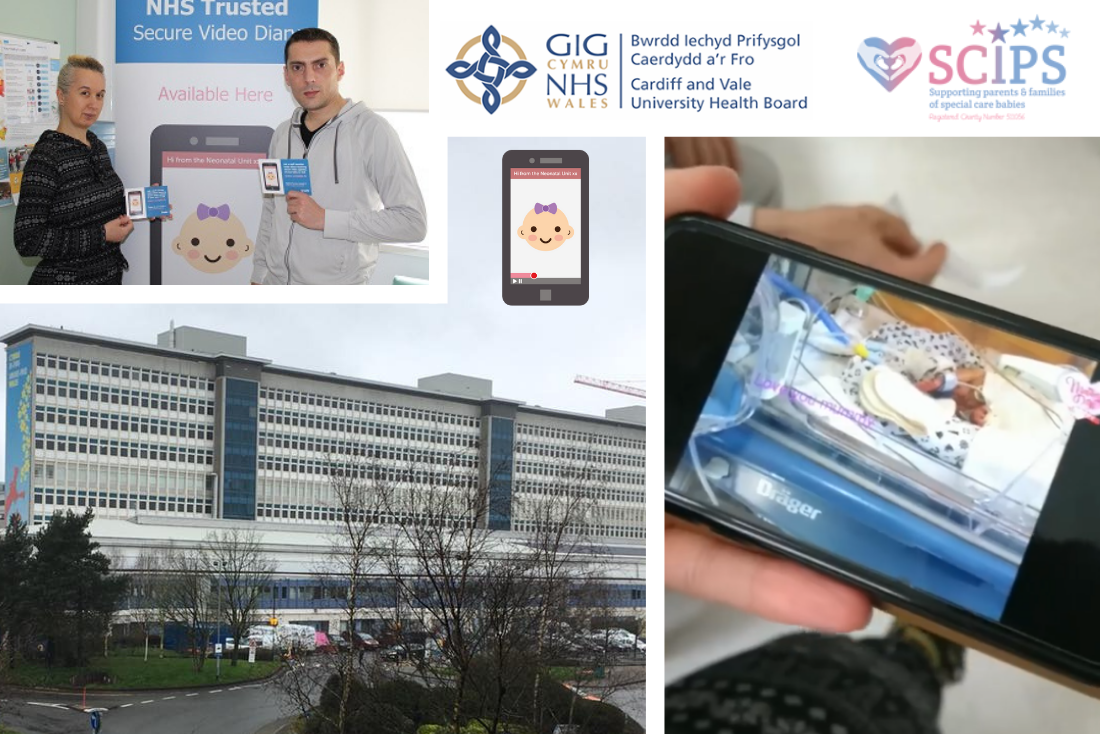 Parents with babies on the Neonatal Intensive Care Unit (NICU) at the
University Hospital of Wales
are now able to keep in touch with their little ones when they are away from their baby's bedside thanks to vCreate secure video messaging, which has recently been implemented on the unit.
vCreate is a secure video messaging service that lets unit staff record and send secure video updates to parents when they're unable to be by their child's side, minimising the separation anxiety felt by parents. The NICU at the University Hospital of Wales is the first unit in Wales to use this kind of secure video messaging.
NICU staff record short video updates about the baby for their parents to watch when they are away from the unit. These are recorded on any device with a camera, such as a mobile phone or tablet, and stored securely on the vCreate platform.
New mum, Nina Bucur, received a vCreate video from her little boy Eric, on Mother's Day, Nina said:
"We have been waiting for almost 14 years to have a baby. I didn't feel well with pain and I was having contractions so came into the hospital to be checked out. My baby, Eric Fabien Bucur, was born on 18 February weighing 900 grams at a gestation of 24 weeks and 3 days. The staff here are beautiful, I don't have words to describe how I feel about the care we have received on the unit, they are just beautiful. On a scale of one to ten, I would give them a 10 definitely.

It was hard to adjust at first because 'I'm Eric's mum, I know what's best for him' but they quickly gained my trust. The staff are there 24 hours a day, if anything happens they are there, through the ups and downs, always by his side, getting him better. It was wonderful to receive a message from Eric on Mother's Day, the staff made a real effort to make my first Mother's Day very special."
Mary Glover, Lead Nurse for Acute Child Health at the Noah's Ark Children's Hospital for Wales said:
"We aim to offer the very best care and support to newborn babies and their parents or carers, and using technology like this helps us give that little extra reassurance to parents at a very difficult time. Many parents have other children and responsibilities, so being with their baby all the time is impossible. It's been so rewarding for us to use technology to keep that bond going when it's not possible for the whole family to be together. I'd like to thank SCIPS charity for funding this, it's making a huge difference on the unit."
Ben Moore, Founder of vCreate wanted to express his thanks to the unit charity
SCIPS
, saying:
"It's fantastic to see vCreate live and in use in the first neonatal unit in Wales, and we're delighted that families across the region will now benefit from the system. We would like to thank SCIPS for their support in helping to make this happen."
SCIPS join a number of other generous organisations who are
funding
the use of vCreate technology in neonatal and paediatric units across the UK and in Australia.