04 May 2018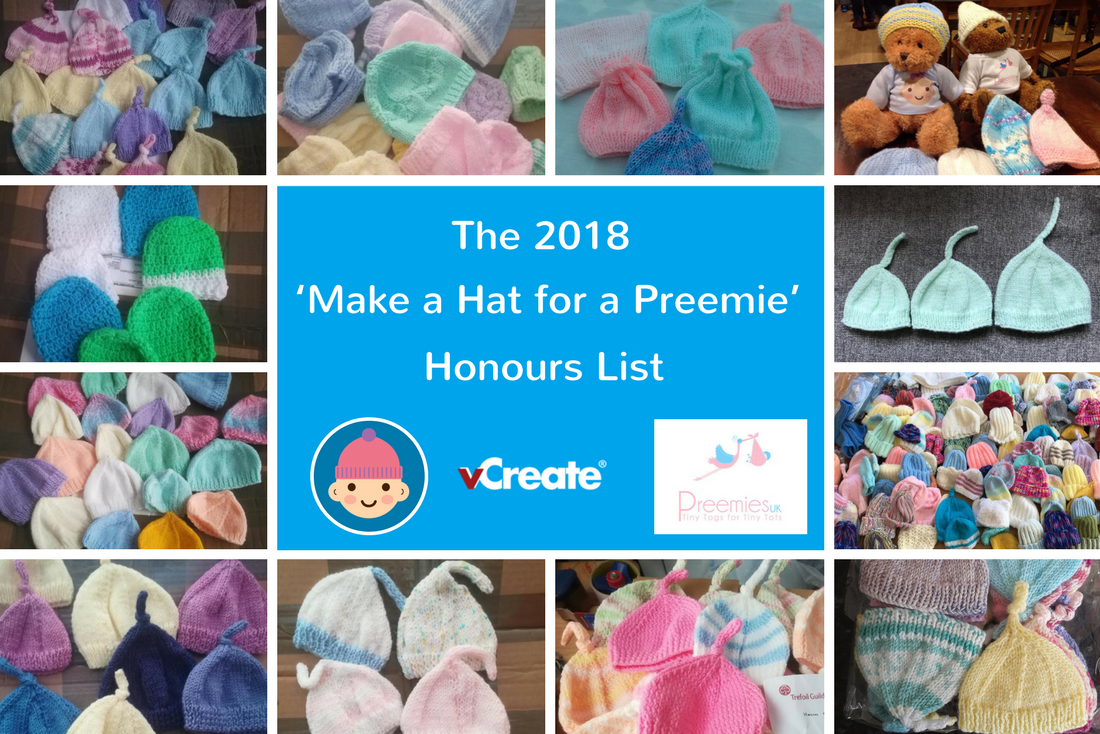 Preemies UK
and vCreate have been counting up all the wonderful hats you've sent in support of the 'Make a Hat for a Preemie' campaign, and are super-proud to reveal that we have now received over 1000 woolly hats!
The project's original target was 100 hats so to have 1000 hats ready to send out to NHS Neonatal Units is a fantastic achievement.
We would like to thank everyone who contributed and give a massive shout out and virtual high fives to the following individuals and groups:
The 2018 'Make a Hat for a Preemie' Honours List
Roberta Morris and the Trefoil Guild, Halesowen, Maxine Wyeth and the 2nd Hagley Rainbows, Sue Carruthers and the Worcester Evening Trefoil Guild, Jean Moore, Janice Martin and the Perry Barr Trefoil Guild, Jill Emerson and the West Wickham Trefoil Guild, Chislehurst Trefoil Guild, Bexleyheath Trefoil Guild, Helen Hooper, Pauline Roberts, Petts Wood Methodist, Lisa Minton, Hurst Trefoil Guild, Katie Pent and the West Wickham Trefoil Guild, June and Zoe Wood, Girlguiding LaSER, Girlguiding Surrey East, Ladybird One - First Crown East Rainbows, Barbara and the North Shropshire Trefoil Guild, Oswestry Trefoil Guild, Mid Shropshire Trefoil Guild, Tanya Oxberry, Vicky Canton, Amelia and Maria Todd and the 1st Frimley Guides, Brenda Smith and the North Shropshire Trefoil Guild, Bromley North Trefoil Guild, 1st Trentham Brownies and Staffordshire Girlguiding, Sharon Stewart and her Mum, Debbie Carter and the 1st Wychbury Senior Section, West Wickham Trefoil Guild, Linsey Dale and the 12th Stoke Brownies, Jenny Wood and the 40th Brownies, Debbie Thompson, Margaret Mumford and the Little Red Robin Crafts, Kayla Pearce and the Chaldon Guides, Ursula Pearce - Ex Guides, Sally Ball and the Kidderminster Guides and an anonymous knitter, knitting on behalf of the Girl Guides, Doreen Mansfield, Shelia Young, Helen Currington, Isobel Smout's Grandma (Isobel is a Brownie at 3rd Kidderminster), Janice Larkin (Sidcup Trefoil), Elaine Blake and Tina Brettell (mum and auntie).
If you have taken part in our #Hats4Preemies campaign but your name is not listed above, please get in touch via
parents@vcreate.tv
Thank you all so very much!