04 April 2018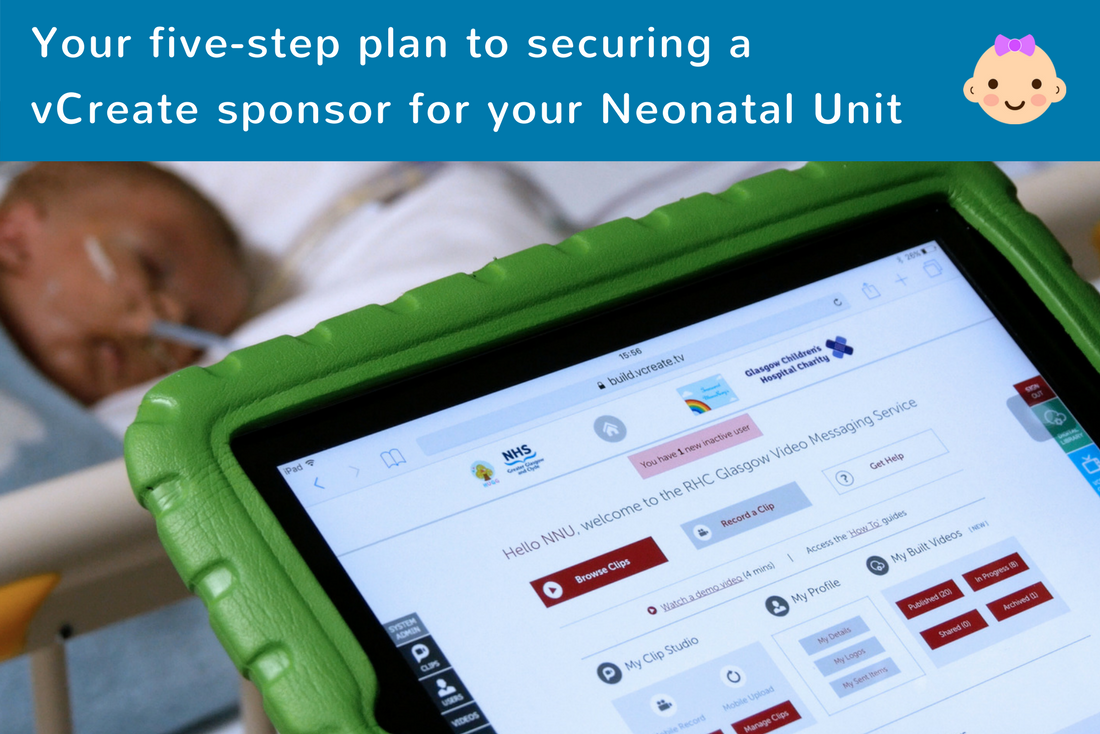 The vCreate platform has always been free and will continue to be free to Neonatal Units and parents. The sponsorship funding model gives charities and other private organisations the opportunity to support their local neonatal unit by funding the application.
In exchange for providing sponsorship for the vCreate App, sponsors can expect to receive positive media coverage and association with tech for good, whilst also having a positive impact on the lives of hundreds of families.
Sponsors can choose to fund the vCreate App outright, or they may prefer to share the investment and the limelight with another sponsor.
We are aware that many hospital's charities are keen to get involved with funding vCreate; equally though, there are charities, that, whilst they see the benefit of the vCreate Neonatal Video System, may have already allocated available funds to other projects. For those Neonatal Units who find themselves without charity funding for vCreate, here are five ways that you can ensure that a sponsor or benefactor is found sooner rather than later:
1. Introduce vCreate to your hospital communications team -
once a connection has been made, both parties can work together to produce a sponsor marketing communications plan, that looks to identify and target potential sponsors.
2. Consider previous supporters -
inbound requests to sponsor often come from organisations that are already connected with the Neonatal Unit or the hospital, so make a list of those organisations, and consider approaching them with the sponsorship details at the earliest.
3. Put a call out for sponsors on social media -
an engaged social media community made up of parents and previous supporters is an excellent way of reaching potential supporters. Parents may be business owners themselves, or they may be able to suggest a business that will be interested in sponsoring. Here's a
recent example
from BIBS (Babies in Buscot) the registered charity supporting Buscot Ward, the local neonatal unit at the Royal Berkshire Hospital.
4. Arrange a NICU showround -
inviting potential sponsors to come and see the amazing work of the Neonatal Unit is a great way of showing sponsors how funding video technology for the unit will help. For sponsors that do decide to sponsor your unit, you could arrange a photo opportunity on vCreate launch day, so that the sponsor benefits from being associated in subsequent media coverage with the vCreate project.
5. Nominate a vCreate champion -
the Neonatal Units that are quickest to find funding are often those that have named a vCreate champion to help facilitate and coordinate internal and external communications. Your vCreate champion would ideally be someone who is well connected, and who would feel comfortable approaching potential sponsors. vCreate will liaise with your champion and your communications team to create a shortlist of appropriate sponsors and support with funding applications.
For more information on funding options available to your Neonatal Unit, go to
vcreate.tv
.