06 September 2021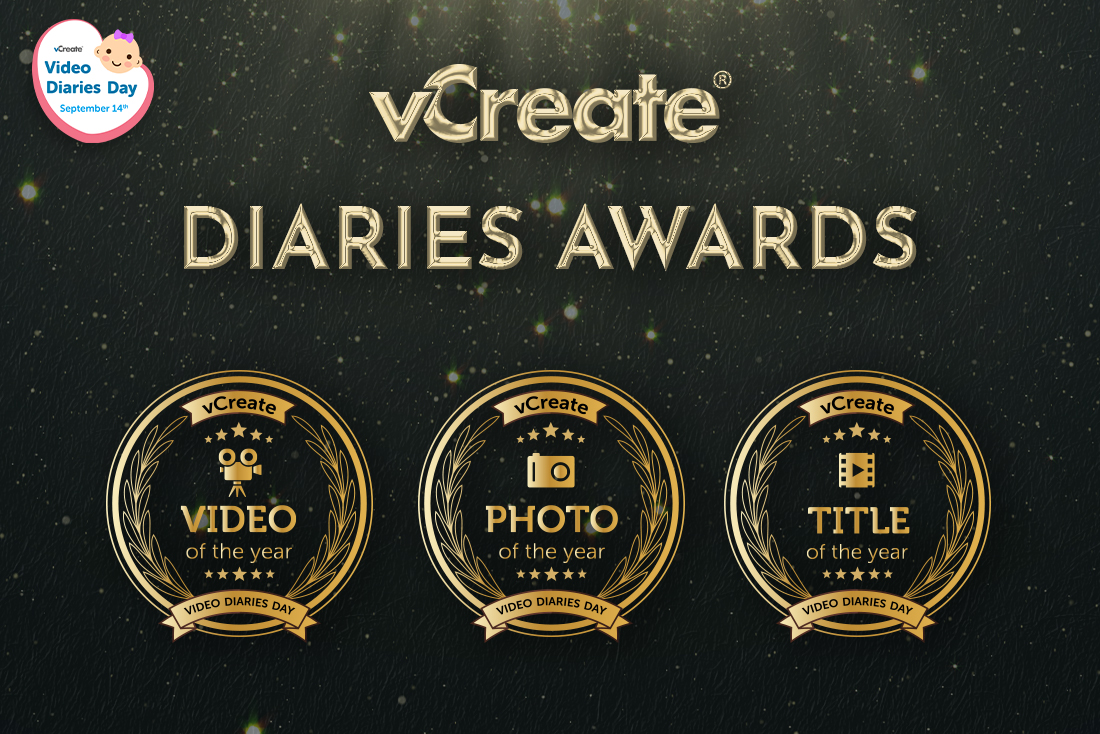 We have been overwhelmed with your amazing photo and video entries for our first-ever vCreate Diaries Awards!
Thank you so much to everyone who shared a part of their Diaries story with us.
It was really challenging creating our shortlist as every photo and video we received was of a special little fighter being looked after by their amazing hospital teams.
After much deliberation behind-the-scenes, we selected 4 entries from each category to be our finalists. The decisions were made based on the units' creative use of the technology.
Without further ado, we're delighted to share the photos and videos that have been shortlisted for the awards, including their lovely behind-the-scenes stories.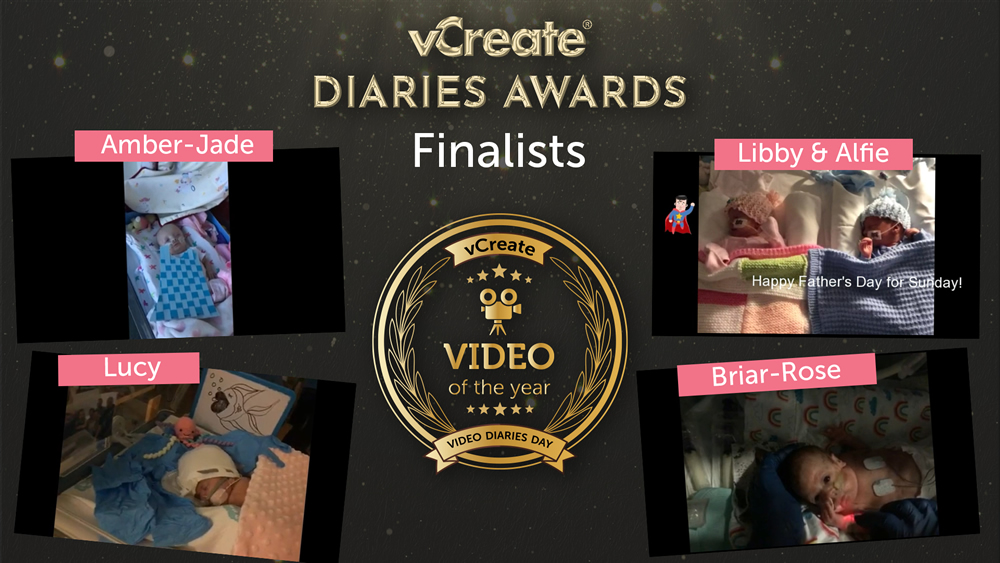 Video of the Year FinalistsBriar-Rose recorded by Simpsons NICU - Time To Get Cosy With A Head Massage
Briar-Rose's mum, Chloe, shared: "Briar-Rose was born at exactly 26 weeks in the Simpsons Neonatal Unit in Edinburgh. The team at Simpsons always made sure to send us the best photos and videos of our girl which was amazing because we couldn't be there as much as we wanted and it really helped having to be apart from her. Briar-Rose is now almost 3 months old and she's home!"
Amber-Jade recorded by Ninewells Hospital - There's No Place Like Home
Amber-Jade's mum, Kayleigh, shared: "We got this video just before discharge. It was absolutely amazing and so much thought went into it."
Libby and Alfie recorded by Yeovil Hospital SCBU - First Father's Day Memories
Abby, Libby and Alfie's mum, said: "The vCreate clips were just as special to me at the time of receiving them as they are to me now. The team at Yeovil SCBU were amazing and created a special Father's Day video. To take time out of their busy schedules to make everything so perfect and special, acknowledging special dates and creating video memories to last a lifetime, is so special and something I will be forever grateful for."
Lucy recorded by Glasgow Children's Hospital NICU - A Video To Make Lucy's Sister Smile
Lucy's mum, Rozalynn, shared: "Lucy was looked after for 142 days at Glasgow Children's Hospital Jan 2020-May 2021. Lucy has an older sister, Millie, who was unable to visit due to restrictions so videos like this made her feel as close to her sister as she could in the circumstances. Helping Millie to feel as involved in such a child-centred way, while looking after our micro-preemie, was a massive support to my husband and I during a very emotional time."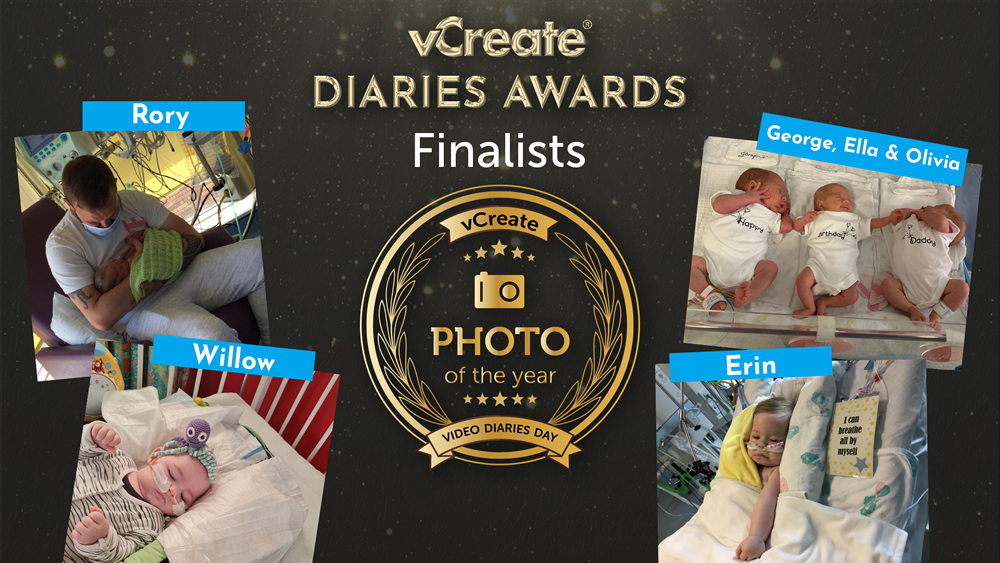 Photo of the Year FinalistsErin captured by Glasgow Royal Hospital for Children's PICU
Erin's mother, Tracy, shared: "Erin was cared for by Glasgow's Royal Hospital for Children's PICU for 3 weeks. This photo was taken the day she was extubated after just over 2 weeks on the ventilator and put onto high flow oxygen. It shows a lot of emotion from Erin: she looks fed up and relieved at the same time. It also marks a big milestone that she was finally on a good road to recovery. She was such a brave girl after having open heart surgery and had a tough time during her PICU stay."
George, Ella and Olivia captured by Jessops Wing
Jessica, the triplets' mum, shared: "My triplets fought from day one, overcoming many hurdles whilst in the NICU! Our favourite vCreate photo was this one, sent to daddy on his birthday whilst he was hard at work!"
Rory captured by William Harvey Hospital NICU
Rory's mum, Shannon, nominated the photo of her husband and son: "This picture has a lot of meaning to me. After the loss of my daughter 2 years ago, we fell pregnant with our rainbow son a year later. Walking back into the NICU unit was very difficult as this was where my daughter passed. Unfortunately, with Covid we weren't able to see our son together. After 11 days of not being able to hold our son, I woke up to this amazing picture that brightened my day – a magical moment that I thought I would miss – my husband's first cuddle with his son."
Willow captured by Ninewells NICU
Willow's father, Peter, shared: "Willow was there from birth until 7 months, but she sadly passed away. She was a part of the family."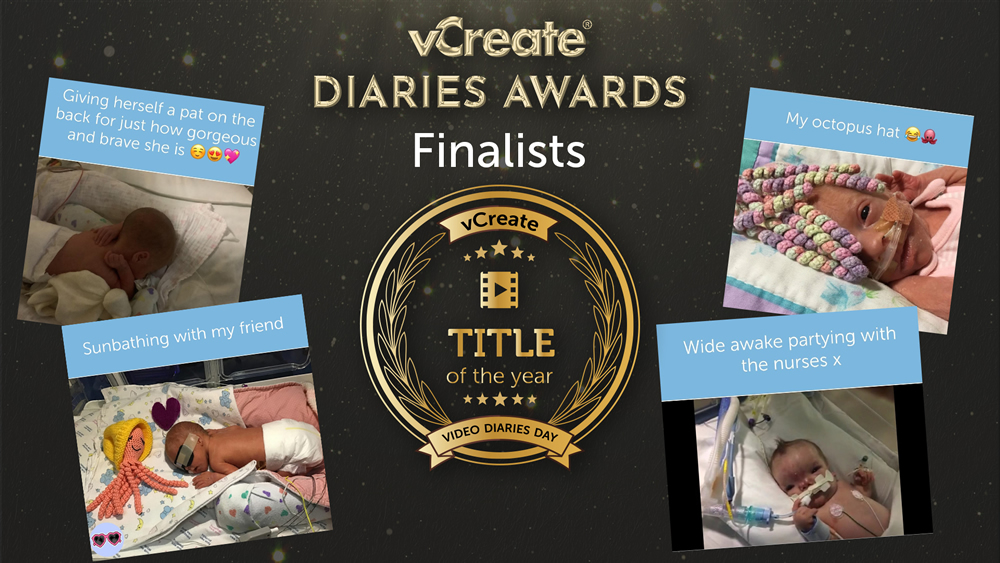 Title of the Year FinalistsRosie-Ann giving herself a pat on the back, captioned by James Cook NICU
Bethany, Rosie-Ann's mum, shared: "I was transferred from my hospital in Nottingham due to no cots being available, the day I was transferred to James Cook, Rosie was born at 30 weeks and has been the bravest and strongest little bean ever since. ALL staff at James Cook welcomed and cared for us all so lovingly. They really went above and beyond, and I don't know how I can ever thank them enough."
Whitney sunbathing with her friend, captioned by William Havery Hospital NICU
Whitney's mum, Sophia, said: "Whitney was born at 28+2 weeks at William Harvey Hospital and was in the NICU for 49 days. The staff were amazing and kept updating me with photos of Whitney though vCreate – l received some amazing photos that put a smile on my face when I was feeling down."
Anthony wide awake and partying with the nurses, captioned by Glasgow Children's Hospital NICU
Jemma, Anthony's mum, shared Anthony's story: Anthony's home for a while was Glasgow Children's Hospital NICU and he loved his nurses and even had favourites. I think this photo sums up his personality – for being so little he had a big one! Anthony was born premature and we then found out he had TOF and a lot of other problems combined. Sadly at 11 weeks old, he passed away. We would love to honour his name with this award."
Roxanne in her octopus hat, captioned by Stoke Mandeville
Becci, Roxanne's mother, shared the story behind the photo: "I would spend days on end in the NNU with Roxanne. There eventually came a time where I had to take time out for my own mental wellbeing but this was during COVID without any visitors and with my partner at work, so I was really reluctant. I went home that day and the nurses took photos for me and sent them across. It's so reassuring to see your baby doing okay rather than just hearing it over the phone. It made pumping milk so much easier too."
Keep an eye on our Instagram, Facebook and Twitter pages on Video Diaries Day (14th September) where the winners of each category will be announced.
Good luck to everyone shortlisted and thank you again to everyone that shared their precious memories.