02 April 2018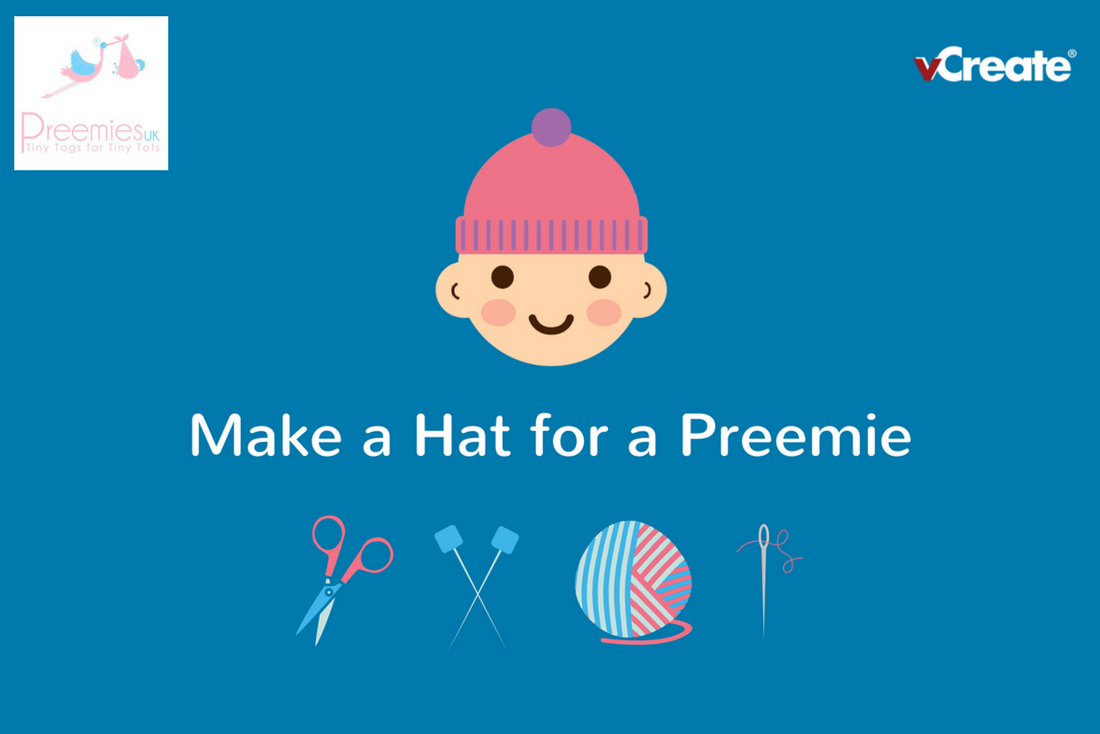 On Monday 2nd April, vCreate is launching 'Make a Hat for a Preemie' – a campaign that aims to find knitters and crocheters who can knit a hat or two for premature and poorly babies.
Through our
Facebook community
(parents of premature and sick babies), local knitting clubs and Girl Guides groups, we aim to knit or crochet 100 hats for babies in 30 days.
Hats are an essential item for NHS Neonatal Units because babies can lose body heat quickly and have more difficulty generating heat to warm up.
Research by Royal Surrey SCBU
found that 23% of admissions to the SCBU were because babies were getting cold during skin to skin contact after delivery. One of the biggest changes introduced was ensuring that all babies have a knitted hat put on as soon as possible after birth.
We are proud to announce that our campaign is being run in partnership with
Preemies UK
, a charity that encourages knitters and crocheters to make handmade cardigans, hats, blankets and toys for premature babies around the UK. The organisation is run by Shelley Mitchell through the Preemies UK Facebook page. So far in 2018, 12,576 items have been made by volunteers and sent out to neonatal units across the country.
Here at vCreate, we want to help that number grow by getting as many generous knitters involved as possible. We are thrilled to partner with such an amazing charity to help babies who need extra care.
This is where you come in! Why not put your crochet and knitting skills to the test for a fantastic cause and help us reach our goal of 100 hats?
Preemies UK and vCreate will share photos of all the wonderful hats they receive on social media, so your work could be seen by over 12,000 people! Be sure to enclose your group's name when you send in your hats and use the campaign hashtag #Hats4Preemies. The campaign launches on the 2nd April and closes on 1st May. This means we have one month to send our donations to Preemies UK.
Our campaign poster
'Make a Hat for a Preemie'
is available to download now so please download the details or print off and give to your friends and family ('Make a Hat for a Preemie' is open to anybody who wants to lend us their hands and get involved!).
Patterns
Knitting for preemies is not as simple as sizing down any baby pattern. These precious little ones have special needs that you should consider before starting a project. Don't panic! vCreate has a set of free patterns to share with you.
Crochet
Here is a
crochet pattern
of US origin, so double crochet; therefore, for UK-based knitters we would suggest using treble crochet when making hats with this pattern.
Here is a link to
Bev's Stripey
Newborn or Preemie hat. (This pattern is written in single crochet (US terms), so please use double-crochet in UK).
Here is
Bev's Easy Round
Baby Hat. (US double crochet pattern - please use treble crochet for UK).
Knitting
Here are three knitting patterns...a
top knot
, a
tea cosy vent
hat and
Bev's Baby Ribs
hat.
Don't forget to look out for pro-knitting tips and our crafty competition launching later this month by following vCreate on
Facebook
.
Where to send your hats
Please send your creations to:
Make a Hat for a Preemie, Preemies UK, 138 Farmers Green, Droitwich WR9 9EH
by 2 May 2018. Please also include your name when you send across your hats so we can give you the credit you deserve! Happy crafting!