vCreate is an NHS Trusted Secure Video Support service allowing medical teams to utilise video to assist with clinical-management when transferring children for specialist care.
Delivering patient status videos, photos and real-time messaging securely across any device, vCreate enhances care, encourages collaboration and improves efficiency.
Our unique, sponsor-based funding model means the service could come at no cost to hospitals and transport teams. Book a no-obligation demo to find out more.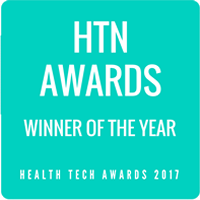 Proud winners of the Health Tech News "Winner of the Year" Award 2017
Secure Video Messaging technology to minimise separation anxiety in parents of premature infants