05 July 2017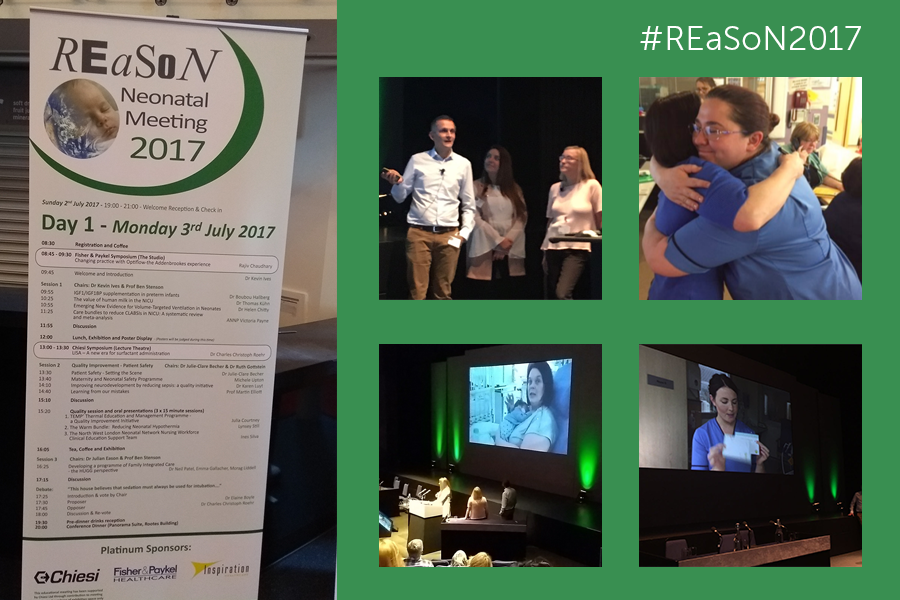 This week saw vCreate attend the annual Reason Neonatal Meeting at Warwick University Arts Centre. As first timers, we expected big things from the longest running specialist neonatal conference in the UK, and, we certainly weren't disappointed.
The two-day conference brings together over 300 doctors, neonatologists, and nurses from around the world to share ideas, innovations, and insights.
FICare was a major theme of this year's conference, as neonatal and special care baby units continue to make the transition from family-centred-care to a family-integrated-care model. More focus than ever before is being put on enhancing and developing relationships between medical staff and parents, and empowering parents to be involved to a greater extent in the care of their own baby. A neonatal unit keen to share their approach with delegates was the Royal Hospital for Children in Glasgow.
Speakers Dr Neil Patel, Emma Gallacher and Morag Liddell, talked about how the team worked together to bring about a culture change, by providing opportunities that helped bring the team together, and where staff and parents could have sensitive conversations.
The team wanted to enhance internal communication between team members, in tandem with improving relationships between medical staff and parents. Staff decided to ask parents whether they would like to form a group; the suggestion was met with a positive reaction from parents, and the HUGG (Helping Us Grow Group) was formed.
To build on this ongoing dialogue between parents and staff, the team launched a series of family awareness sessions for parents and family members that include topics such as: Helping My Baby to Develop, Communicating with Your Baby, and Coping with Stress. Feedback from parents joining the sessions has been excellent.
One of the many challenges that parents of premature and sick babies face is not always being able to be cotside. A suggestion came from one of the dads on the unit; he uses video messaging at work, and asked whether the unit could consider sending video updates, so parents could keep updated on their baby's progress when they were away from the hospital.
Neil started looking for ways that technology could help and approached vCreate for advice. Neil said:
"vCreate understood what we wanted to do straightaway, and worked with us to launch secure video messaging at RHC NNICU."
Following governance approval, video technology is now used for all babies on the unit.
Sarah Handley, Marketing Manager at vCreate said:
"It's wonderful to hear first-hand how our technology is making such a positive difference in the NHS; we hope that the success Dr Patel and his team are having with their programme of FICare and vCreate, will encourage other neonatal units to consider including secure video messaging as part of their family-integrated-care plans."
The example provided by the Royal Hospital for Children could provide a blueprint for success for other units looking to take family-integrated-care to the next level. Secure video messaging continues to enable the team at Glasgow to deliver the FICare they envisaged, whilst connecting parents and babies.
Reason attendees can now access secure video messaging at no charge; through a corporate sponsorship model.
To request further information about vCreate, or a trial for your Unit, get in touch today. 0333 121 8422, nhsproject@vcreate.tv, www.vcreate.tv/nhs.
See you at Reason 2018!