14 June 2019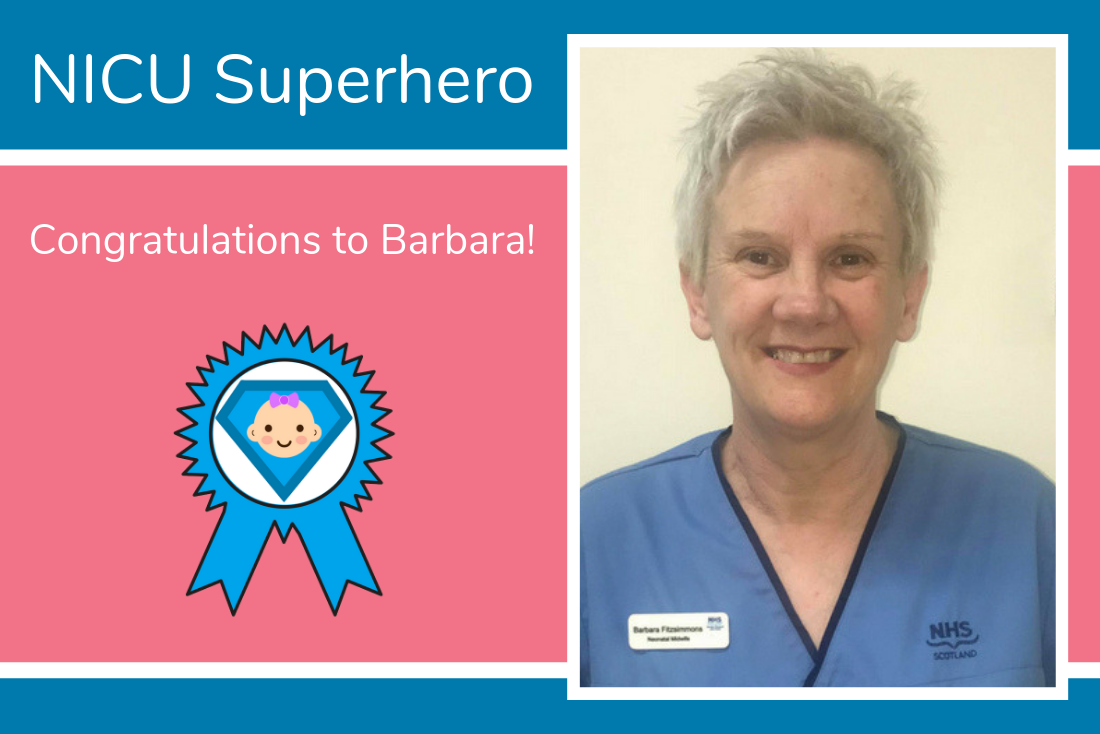 Today's nomination for our NICU Superhero award comes from Veronica and Steven. Their son Freddie was born prematurely at 24 + 6 weeks gestation, and they'd like to say a special thank you to one of the nurses who has been taking care of him. Veronica told us:
"We are nominating Barbara Fitzsimmons from the NICU at Queen Elizabeth University Hospital, Glasgow. She is such an amazing person, inside and out. A very loving and caring individual who absolutely adores her job!"
Freddie's Dad, Steven, added:
"She's exceptional, Veronica always says if we win the lottery we would have her looking after Freddie full time, that's how comfortable she makes us feel. She takes the time to interact with us, and him, and any questions we have regarding him, she will answer in depth and explain why ... blood/gases/ventilation/scans etc. If his stats go down she acts promptly and resolves them in a calm manner, which keeps us calm.

We bought him special incubator vests and clothes and she spent the time dressing him up in them and the little hats we got knitted, she called it a little fashion show.

We also signed up for vCreate and she sends videos, usually more than one, anytime she is on. Veronica was in hospital after birth with some obstetrics issues and couldn't visit Freddie for a few days, so this was a great touch sending extra videos to keep her morale up.

You can tell she genuinely loves her job, always has a smile on her face and even if she's not looking after him she will pop in (usually on her break) to have a chat with us. I feel that's another reason she deserves this award, we have "normal" conversations with Barbara about everyday things, like what we like doing outside this environment, it's not all about medical terminology which is nice!"
Thank you to Veronica and Steven, we wish Freddie the very best of health. And congratulations to Barbara! This is her second nomination, you can read Elizabeth and Garry Whitehouse's earlier nomination
here
.
Would you like to nominate your NICU Superhero?
Has your baby been cared for in a neonatal unit? Do you know someone that you feel deserves a special thank you? To nominate a member of the neonatal team as your NICU Superhero, drop us an
email
, or send us a direct message via our
Facebook
or
Twitter
pages. All those nominated will receive a special
NICU Superhero rosette
and certificate!