19 January 2019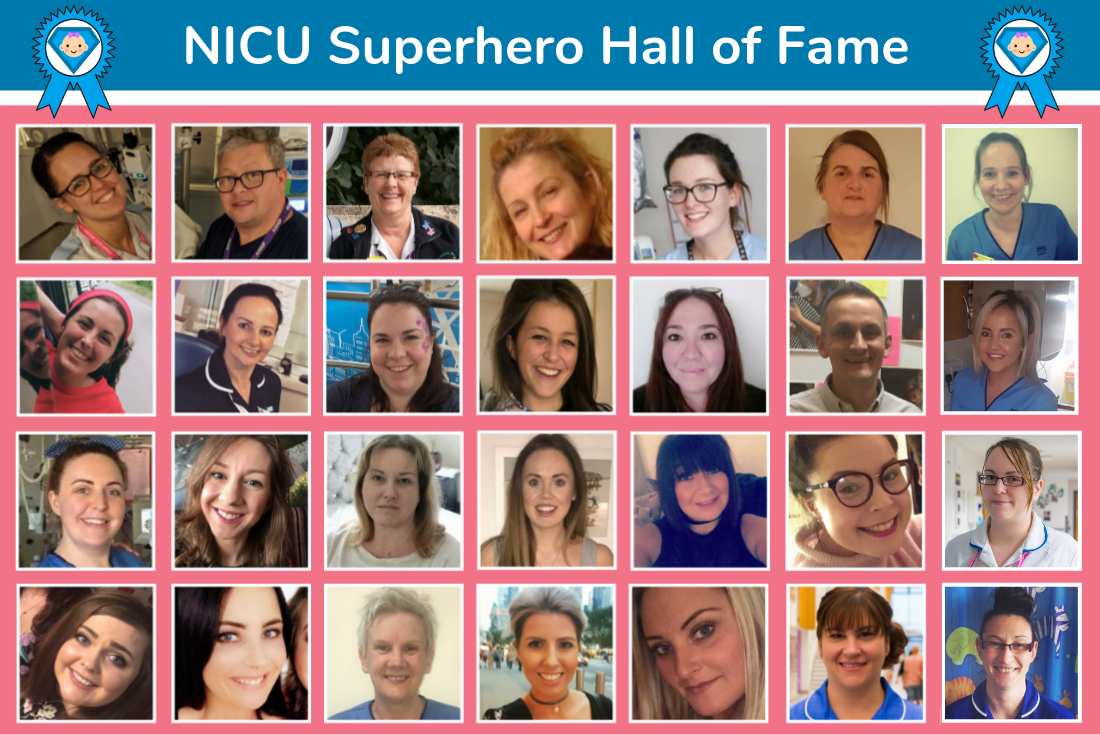 It's time to share another NICU Superhero nomination with you, but first, we have an update on the award itself.
The NICU Superhero Award
We began our search to find the nation's NICU Superheroes last March, and since then we have received an incredible number of nominations, with more being revealed in the coming weeks. So far we have revealed NICU Superheroes working at St Michael's Hospital in Bristol, the Queen Elizabeth Hospital in Glasgow, King's Mill Hospital in Sutton-in-Ashfield, the Royal Berkshire Hospital in Reading, John Radcliffe Hospital in Oxford, Bristol Royal Hospital for Children, the Royal Alexandra Hospital in Paisley, St James's University Hospital in Leeds and Darent Valley Hospital in Dartford.
What makes this award so special, is that it is parents who are coming forward to share their experiences of life in the neonatal unit, and wanting to highlight the exemplary care that they and their loved ones have received. It also provides an opportunity for them to say an extra special thank you to those who have helped them through extraordinarily difficult times.
NICU Superhero of the Year
We would like to crown one overall 'NICU Superhero of the Year', the question is, how do we choose from all those nominated? Each families' experience is individual to them, so we have decided that the fairest way to give everyone an equal chance, will be to hold a draw where all the names will be put together and we will select one at random. We will broadcast this selection process to Facebook Live so that you can watch along at home. The date and time will be confirmed soon!
Now to today's business, it's time to reveal another nomination...
Ashleigh Garrett's Nomination
You may remember that back in October we revealed that
Karen Kilna
, from the Royal Alexandra Hospital in Paisley, had been nominated for the award by Sophia's mum, Jennifer. Well another parent has been in touch to let us know how Karen touched her family.
Ashleigh Garrett's little boy Charlie, spent the first week of his life in the neonatal intensive care unit after he was born at 39 weeks gestation, via cesarean section. Although Charlie was a healthy weight, he was transferred to the NICU shortly after because of his breathing. Ashleigh explained:
"Charlie was brought back to the ward with me after one day in the NICU, however, on the day we were due to be discharged from the hospital, Charlie began having seizures so he was then transferred back to intensive care, Karen Kilna was his nurse.

She was with us every step of the way during his week long stay, giving Charlie the best care and supporting my husband and I emotionally, making us laugh every day when all we wanted to do was cry. Karen came with us in the ambulance when my son was transferred for tests at another hospital, and even helped us give Charlie his first bath in NICU. My son was eventually diagnosed as having had a stroke at birth, which caused his seizures and he now has very mild left hemiplegic cerebral palsy, however he is doing amazing!

We cannot thank Karen enough and will forever remember how kind and caring she was. We appreciate it more than you will ever know Karen, keep being you!"
Congratulations to Karen, and thank you Ashleigh for sharing your story.
Nominate your NICU Superhero
If you would like to add a new face to our NICU Superhero Hall of Fame, and give another person a chance to win our 'NICU Superhero of the Year' award,
do get in touch
, or send us a direct message via our
Facebook page
. All those nominated will receive a special
NICU Superhero rosette
and certificate.
To those of you still waiting for us to announce your nominations, do not worry, we will be sure to announce all those nominated before March.