11 November 2020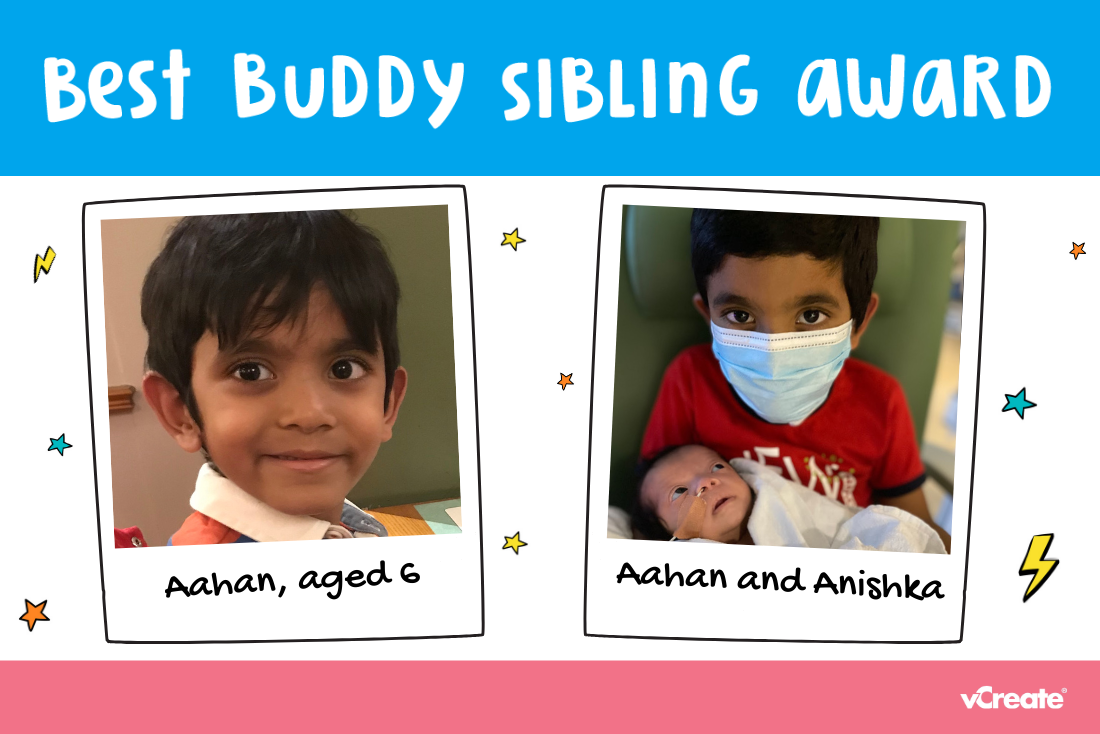 "Caring, understanding, patient, inclusive and brave." These are words that Manamita, Aahan's Mum, has used to describe this super sibling.
Aahan's sister, Anishka, is currently receiving care at St George's Hospital in Tooting. Due to the current pandemic, Aahan had to wait three weeks until he was allowed to visit his sister. Aahan has been so brave and understanding about the situation. He understands that his Mum needs to stay overnight in the NICU when needed. As visiting restrictions have recently changed again, Aahan deserves this award more than ever as he can no longer visit his sister.
"Like all parents, we had our ups and downs throughout the pregnancy and the ongoing pandemic didn't help either. However, we tried to be as positive as we could.
Anishka arrived towards the end of August 2020 (one week earlier than expected). She was placed straight under the care of the Neonatal Unit and we were hoping to bring her home within a week. Aahan proved to be a big support during this time and kept his patience as siblings were not allowed to visit. He understood the risks to everyone and agreed to stay with his friend whilst we cared for his baby sister. He would draw pictures at home every other day which would find a place in Anishka's incubator.
After a long wait of three weeks, he got the first opportunity to cuddle his sister. That moment came when Anishka was shifted to an advanced level of care. He would come every evening to the Neonatal Unit after school. He would read books to Anishka and cuddle her for hours. He even recently learnt how to change her nappy!
He can't visit anymore due to the sibling restrictions being back in place but keeps himself in touch with Facetime and
vCreate
(one of his favourite ways to connect!)"
Anishka has been in hospital care for more than 2 months now. Manamita and her family are optimistic that she will be home for Christmas.
"It will be a big moment. We can't wait to all be together as a family this Christmas!"
Congratulations Aahan! You really are a special young man and very deserving of this award. Your certificate and goodies are in the post for you! Anishka is very lucky to have super big brother like you.
Our Best Buddy Sibling Award
Read all about our new award
here
and let us know if there is a super special sibling in your life that you would like to make a big fuss of.