22 June 2018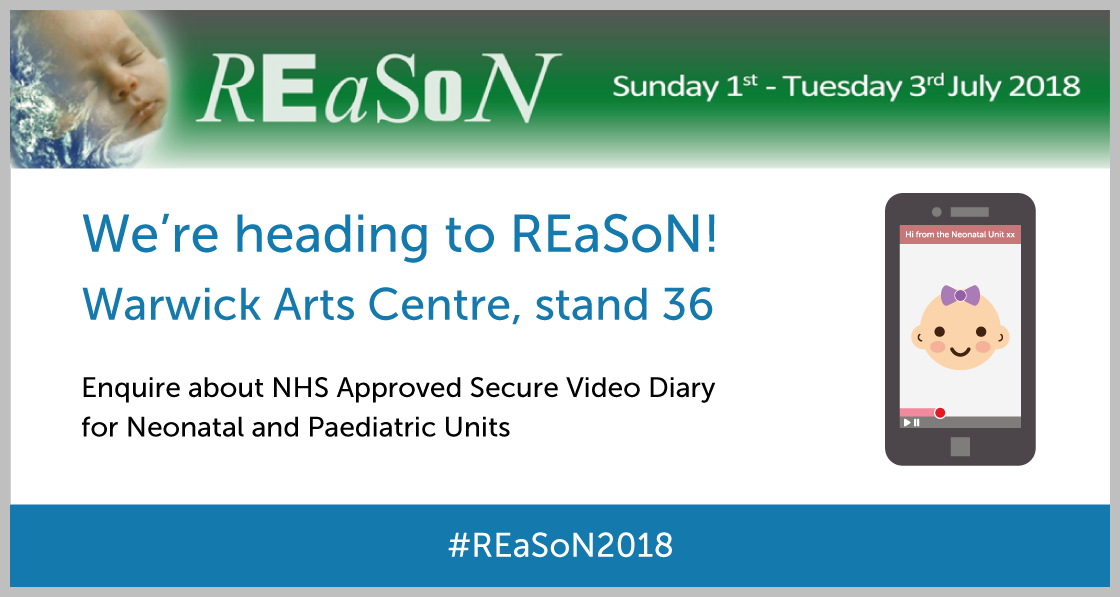 The annual
REaSoN Neonatal Meeting
is one of the largest neonatal shows in the UK, attracting hundreds of neonatal nurses and doctors each year. Delegates come to learn about best practice and future trends in neonates and catch up with their peers.
vCreate is thrilled to have been invited to exhibit at this year's show and would like to invite delegates to visit us at stand 36 to learn about how video diaries support Family Integrated Care.
REaSoN is taking place between Sunday 1st and Tuesday 3 July at Warwick Arts Centre, and, having taken a sneaky peek at the
conference programme
, you'll not be disappointed!
Add a visit to the
vCreate
stand to your agenda at this year's REaSoN meeting and you can:
1. Attend a secure video diary demonstration
See how quick and easy it is for nurses to make video diaries and how our QR code feature makes the system even more secure than before. Instead of choosing from a list of registered parents, each child now has an individual QR code, that can be printed off and kept cot-side for nurses to scan each time they make a new video.
You can attend a demonstration on-stand at the following times:
Day one (Monday 2nd July)
11am - 11.15
13.00 - 13.15
15.25 - 15.40
Day two (Tuesday 3rd July)
10.40 - 11am
13.00 - 13.15
Book your place
now to avoid disappointment.
2. Register your interest for a virtual demo for you and your team
At REaSoN, you're likely to be representing your unit individually, or in small groups, and will be reporting back to your team on your findings from the show. We would encourage you to attend a demonstration of vCreate, where you can pick up some information to take back and discuss with the wider team. You can always organise a
personalised demo
for you and your team at a time to suit after the REaSoN show if it's more convenient.
3. Enter our draw to win an Amazon Echo Dot
Whether you are a lover of technology or not, we think almost everyone would like the opportunity to win an
Amazon Echo Dot
.
4. Learn about Secure Video Transfer
Secure Video Transfer
is a helpful feature of the vCreate system that lets neonatal units within the same hospital share baby video diaries with other hospitals in the same neonatal network. This provides consistency for parents who would like to continue receiving video diaries throughout their neonatal journey. Once the child is discharged from neonatal care, parents can download their entire video diary to keep forever.
5. Discuss funding options for your Neonatal Unit
NHS Neonatal Units are hampered by funding issues, sometimes even for essential life-saving equipment, and hospital charities do an amazing job of supporting units and making up any funding gaps. To ensure that vCreate stays free to parents and units, charities have the option of funding vCreate for the unit in exchange for media coverage and an opportunity to associate their brand with technology that is making a positive difference to people's lives. The Emily Harris Foundation chose to fund vCreate for King's Mill Neonatal Unit and their founder, Clare Harris, was interviewed on
BBC East Midlands Today
!
We look forward to seeing you at REaSoN 2018 (stand 36); in the meantime, if you would like to enquire about NHS Approved Secure Video Diary for your Neonatal Unit, get in touch with
theteam@vcreate.tv
, or call us on 0333 121 8422.