10 January 2018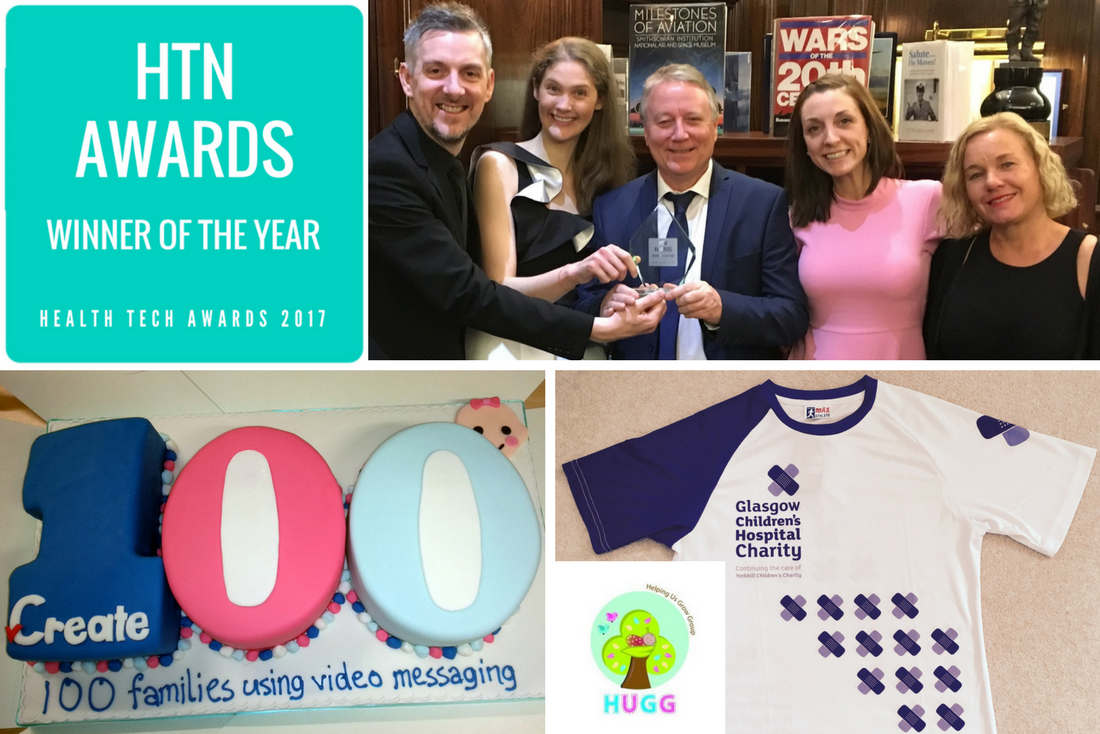 2017 saw some very important announcements for parents of premature babies hit the headlines. In December, the Scottish Government announced that they plan to make a new
£1.5m family fund
available to help parents of premature babies born in Scotland with additional travel costs and food and drink. And, through a campaign led by Catriona Ogilvy, founder of The Smallest Things, a charity campaigning to support parents of premature babies, parents affected by premature birth in Waltham Forest Council are now entitled to
extended parental leave
. We hope that these developments will help to set the tone for increased support for parents of premature or sick babies across the UK.
A new year's post wouldn't be, well, a new year's post, without considering vCreate's development over the last 12 months. 2017 has been a wonderful year for the application; we've seen NHS Neonatal Units across the country take us to their hearts and welcome the benefits that Secure Video Messaging provides to parents.
We'd like to thank NHS staff, parents and sponsors for their support and reflect on our highlights of 2017, as well as looking at what's on the agenda for 2018.
The best bits - 2017, a year in review The Royal Hospital for Children, Glasgow, launches vCreate
In April 2017, the Neonatal Unit at the Royal Hospital for Children in Glasgow completed a successful pilot of the vCreate system and rolled out the service to all parents. And in November 2017, the unit celebrated the
100th family
to sign-up to vCreate with a party and magnificent iced vCreate cake!
Hats off for fundraising families
August saw two incredible fundraising efforts led by two very special ladies.
Annette Russell
raised £1280 for the Glasgow Children's Hospital Charity, through online fundraising, whilst
Sarah Clark
completed the Kiltwalk, a 25 mile walk from St Andrews to Monifieth, raising over £2,000 for the Ninewells Unit in Dundee. The money raised by both Annette and Sarah bought tablet devices for the units where their babies were cared for.
vCreate introduces 'Secure Video Transfer' feature so parents of sick children can receive progress updates
In September, we launched
Secure Video Transfer
, a feature that allows neonatal networks to share video clips between units and departments within the same hospital or units within the same network. This feature has been well received by neonatal staff, who say that transferring video clips when a baby is moved to a new unit will provide continuity for parents, and a continuous video diary of their baby's progress.
Giving back to the unit that pioneered Secure Video Messaging
To say thank you to our first unit, the Royal Hospital for Children, Glasgow; who championed the service, we headed to Scotland to compete in the Scottish 10K at Musselburgh Racecourse, where
we raised £675
for the Glasgow Children's Hospital Charity and the Helping Us Grow Group (HUGG).
A big cheer for our first sponsor, Treasured MemoRory's
In November,
Treasured MemoRory's
became the first to sponsor Secure Video Messaging for neonatal units. Parents of premature or sick babies being cared for at the Royal Hospital for Children, Glasgow, will continue to benefit from the service thanks to the amazing support of Treasured MemoRory's and Glasgow Children's Hospital Charity.
vCreate is named HTN "Winner of the Year" at the HTN Awards
November 2017 will also be remembered at vCreate Towers as the month when we were awarded the HTN
'Winner of the Year'
Award for how the technology benefits parents of premature and sick babies. A very proud moment for everyone at vCreate!
Looking ahead… what's coming up Central Governance approval expected early in 2018
We are all very excited about the prospect of gaining central governance approval. Being listed as an approved app on NHS Digital's app store means that the system is approved for use across the entire NHS. This decision will mean that NHS neonatal units considering vCreate will now be able to get started more quickly, and parents with a child in an NHS neonatal unit will receive additional reassurance of their baby's wellbeing when they need it most.
Imperial becomes first London unit to use vCreate
Governance has now been approved for the Imperial College Healthcare NHS Trust, our first London trust! Parents of preemies at Queen Charlotte's and Chelsea and St Mary's, Paddington will benefit from Secure Video Messaging in 2018.
In summary, we are super excited about 2018 and are looking forward to welcoming the 100 NHS Neonatal Units we've been demoing to. We've been extremely fortunate to have had such amazing support from the neonatal community and from parents who have shared their stories; thank you!
2018 will see the vCreate team continuing their search for sponsors to fund Secure Video Messaging in exchange for positive brand association and marketing opportunities. Our goal has always been to offer the service to every neonatal unit in the UK at no cost to families or the NHS, and it's the generous support of sponsors like Treasured MemoRory's that allows us to do this.
To find out about sponsorship opportunities in your area, or if you work for an organisation that you think may be interested in hearing more about
sponsorship opportunities
, we would love to hear from you!